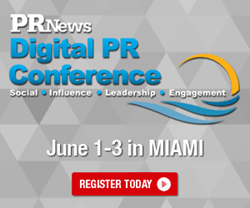 Miami, FL (PRWEB) March 07, 2015
PR and marketing's next wave in digital communications will sweep into Miami at PR News' annual Digital PR Conference June 1-3. The PR community will gather at Miami's Ritz-Carlton as top communications practitioners from brands, nonprofits and PR agencies will offer training, brainstorming, conversation and debate on topics including influencer relations, video, Facebook/Twitter, visual storytelling, multimedia press releases, SEO, budgeting, data and analytics, the digital dream team, email communication, social ROI and tying digital to the bottom line. Early bird rates end May 7.
View the agenda for the Digital PR Conference online here: http://www.prconferencemiami.com/digital-conference-agenda/.
The communicators in attendance will be defining the future of digital communications—and forging important connections that will take the profession to the next level.
PR News' three-day Digital PR Conference will feature speakers from the American Cancer Society, American Heart Association, AOL, Bright House Networks, Finn Partners, GE, Havas PR, Human Rights Campaign, National Geographic Channel, rbb Public Relations, Revolt TV, Ritz-Carlton Hotel Co., Rock Orange, Southwest Airlines, Toyota North America, USANA Health Sciences, Verizon Wireless, Vimeo, Weber Shandwick, Zumba Fitness and more.
View the complete list of speakers online here: http://www.prconferencemiami.com/speakers/.
All three days of the Digital PR Conference will include community-building networking opportunities and a keynote presentation. The keynote presenters will be Jeremy Miller, author of the 2015 book "Sticky Branding: 12.5 Principles to Stand Out, Attract Customers, and Grow an Incredible Brand"; Tania Luna, author of the upcoming book "Surprise: Embrace the Unpredictable and Engineer the Unexpected"; and Ekaterina Walter, author of the WSJ best-selling book "Think Like Zuck" and co-author of "The Power of Visual Storytelling."
The three-day event will also include a June 1 morning workshop "How to Make Video Work for Your Brand" and the June 3 Social Media Icon Awards luncheon. PR News has also reserved a special hotel room block at the Ritz-Carlton through May 10. For more information on the Digital PR Conference and Video Workshop, visit http://www.prconferencemiami.com/.
The Digital PR Conference is sponsored by 3BL Media and Business Wire.
Contact Laura Snitkovskiy at laura(at)accessintel(dot)com with questions.
PR News is a daily intellectual hub that serves the communications and marketing community at corporations, agencies and nonprofits. The PR News group focuses on honing and growing PR practitioners' skills in social media, crisis management, digital PR, measurement, employee relations, media training, CSR and writing through its flagship newsletter, webinars, conferences, awards programs, workshops and guidebooks. With the launch of its weekly newsletter over 70 years ago, PR News has remained dedicated to supporting the growth of communicators all while keeping them abreast of the latest news affecting the industry. For more information, please visit http://www.prnewsonline.com.