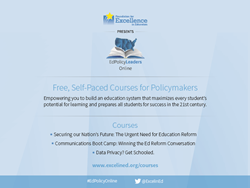 Course enrollees will join a network of participants who are able to differentiate themselves from their peers and connect with one another on key education reform and innovation areas.
AUSTIN, Texas (PRWEB) March 09, 2015
Today, at SXSWedu, theFoundation for Excellence in Education (ExcelinEd) announced the launch of EdPolicy Leaders Online, a series of free, self-paced online education reform courses designed specifically for policymakers. The courses, hosted on Canvas Network, feature a variety of experts from across the education spectrum, from superintendents to senators, parents to policymakers, teachers to technology gurus and community leaders to CEOs. The first two courses are available March 23.
Patricia Levesque, CEO of ExcelinEd said, "EdPolicy Leaders Online provides legislators, policymakers, and local education leaders an innovative and flexible way to stay abreast on what works best, what doesn't and what is next in education reform policy. Course enrollees will join a network of participants who are able to differentiate themselves from their peers and connect with one another on key education reform and innovation areas."
Education reform is never-ending and constantly changing. New initiatives and the expanding use of technology are creating exciting challenges for policymakers and endless opportunities for students and families.
EdPolicy Leaders Online was designed to give those who influence education policy access to the in-depth knowledge and messaging strategies necessary for implementing trending reforms. The lessons come in convenient, self-paced modules to accommodate busy schedules. There also will be official recognition of course completion, which can be displayed on social networks, such as LinkedIn, or on résumés.
The first three courses are robust, timely and varied:
Data Privacy? Get Schooled: This course, developed in coordination with the Data Quality Campaign, will discuss the value data brings to education, will offer recommendations for addressing privacy concerns while promoting effective data use, and will explore lessons learned from existing and emerging policies in education and other sectors.
Securing Our Nation's Future: A failing American educational system threatens U.S. national security. In this course, participants will hear from national leaders and experts about these threats, the urgent need for education reform and how America can ensure its own security and global leadership for future generations.
Communications Boot Camp: Winning the Ed Reform Conversation: How we deliver our messages makes a big difference when it comes to winning the education reform conversation. In this course, participants will build their communications skills related to media relations, targeted messaging, and the use of social media.
EdPolicy Leaders Online Speakers
The courses feature a diverse group of nearly 40 leaders, implementation experts and advocates who are well-respected in their fields – each are passionate about education. Just a few include:

Aimee Guidera, President and CEO, Data Quality Campaign
Katie Harbath, Manager of Policy for Facebook
Olga Garcia-Kaplan, Data Privacy Parental Advocate and Blogger
Joel Klein, Former Chancellor of the New York City Department of Education
Aaron Lichtig, Head of Industry Google
Nuala O'Connor, President and CEO, Center for Democracy and Technology
Lynden Simmons, Student and Florida Tax Credit Scholarship Recipient
Kathleen Styles, Chief Privacy Officer for United States Department of Education
Gray Tollison, State Senator, Mississippi
Kate Walsh, President NCTQ
John White, Louisiana Superintendent
A full list of speakers, including a selection of individual videos is available at http://www.excelined.org/courses.
EdPolicy Leaders Online Enrollment and Availability
EdPolicy Leaders Online course enrollment is open now. Each course has five to six individual modules that require no more than an hour of time each, allowing participants to easily fit them into a busy schedule. There are no restrictions on who can register or how many participants can join a course.
"We are passionate about improving education," said Melissa Loble, Senior Director of the Canvas Network at Instructure. "We want to fuel the conversation around education reform from both ends of the political spectrum, and these free courses from the Foundation for Excellence in Education are designed specifically for that very purpose."
###
About the Data Quality Campaign
The Data Quality Campaign (DQC) is a nonprofit, nonpartisan, national advocacy organization committed to realizing an education system in which all stakeholders—from parents to policymakers—are empowered with high quality data from early childhood, K–12, postsecondary, and workforce systems. To achieve this vision, DQC supports state policymakers and other key leaders to promote effective data use to ensure students graduate from high school prepared for success in college and the workplace.
About Canvas Network
Powered by the Canvas learning management system and Canvas catalog, Canvas Network provides a place and platform where teachers, students and institutions worldwide can connect and chart their own course for personal growth, professional development and academic inquiry. Since its launch in 2013, over 150 educational institutions and organizations have offered more than 400 courses through Canvas Network. Canvas Network is developed and supported by Instructure, an education technology company that partners with educators, institutions, and technologists to build open educational resources and break down barriers to learning.
About SXSWedu
The SXSWedu Conference & Festival fosters innovation in learning by hosting a diverse and energetic community of stakeholders across a variety of backgrounds in education. The four-day event affords registrants open access to engaging sessions, interactive workshops, hands on learning experiences, film screenings, early stage startups and a host of networking opportunities. By providing a platform for collaboration, SXSWedu works to promote creativity and social change.