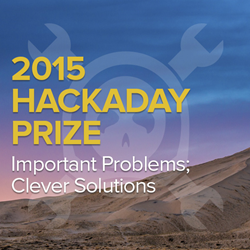 The world has some big problems that still need solving. This year's Hackaday Prize is all about inspiring people to tap into their hacker spirit and to build something that could make a real difference
(PRWEB) March 10, 2015
Last year Supplyframe launched The Hackaday Prize, a competition to drive innovation in connected hardware and the Internet of Things (IoT). A huge success, the contest received entries from 55 countries, awarded over $350,000 in prizes, and saw the creation of hundreds of truly excellent open hardware projects.
This year Supplyframe is issuing a call to hackers, engineers, makers, and hardware startups from all over the world to focus their creative efforts on solving serious issues that face humanity. The global water crisis, pollution, climate change, food shortages, fossil fuel dependency, and many other big problems are waiting for new solutions. It's time to unleash the community's innovative energy and collective expertise to move humanity forward.
The Hackaday Prize boasts the richest and most compelling prize pool ever available to hardware hackers. The grand prize winner will receive a ticket into space (or $196,883 in cash, a mathematically interesting Monster Group number), and other astounding prizes will be up for grabs with a total value of over $500,000.
"The world has some big problems that still need solving," said Steve Flagg, Founder and CEO of Supplyframe. "This year's Hackaday Prize is all about inspiring people to tap into their hacker spirit and to build something that could make a real difference for humanity."
Joining the team this year are Akiba (Freaklabs, @Freaklabs), Pete Dokter (Sparkfun, @petedokter), Heather Knight (Marilyn MonRobot, @HeatherKnight), Ben Krasnow (GoogleX & host of Applied Science on YouTube, @benkrasnow), Lenore Edman & Windell Oskay (Evil Mad Scientist Labs, @EMSL), and Micah Scott (Scanlime, @Scanlime) alongside returning judges Limor "Ladyada" Fried (Adafruit, @adafruit), Jack Ganssle (Ganssle Group, & The Embedded Muse), Dave Jones (EEVBlog, @eevblog), Ian Lesnet (Dangerous Prototypes, @dangerousproto), and Elecia White (Logical Elegance, @logicalelegance).
Additional expert and celebrity judges will be confirmed within the coming weeks.
Supplyframe is also proud to announce that a number of industry leading sponsors are helping power the next wave of hardware innovation: Atmel Corporation (NASDAQ: ATML), Freescale Semiconductor, Microchip Technology (NASDAQ: MCHP), Mouser Electronics and Texas Instruments (NASDAQ: TXN).
Individuals or teams from the USA, UK, India, and many other countries are eligible to enter. Universities, colleges, hackerspaces, and startups are strongly encouraged to take part, as are young hackers. Applicants must be 13 year of age or over to qualify. Preliminary submissions via Hackaday.io are being accepted now through August 17, 2015.
The world's problems can't wait. Share your ideas to help everyone get started.
To learn more visit http://hackaday.io/prize, watch the teaser video, or follow contest news on @hackadayprize Twitter. You can also email prize(at)hackaday(dot)com.
For press inquiries, contact:
Sophi Kravitz
Program Manager, Hackaday Prize 2015
+1 (626) 793-7732
prize(at)hackaday(dot)com
@HackadayPrize
The latest version of the press kit can be downloaded here: Hackaday Prize 2015 - Press Kit
About The Hackaday Prize
The Hackaday Prize challenges people to better their world by designing and prototyping innovative products. In keeping with the community values of Hackaday, The Hackaday Prize encourages the use of open-source technologies and the cross-pollination of ideas by the hardware community. With the richest and coolest prize pool in hardware hacking history and expert judges who are notable within the community, The Hackaday Prize inspires hardware hackers to bring their best to the table.
About Supplyframe
Supplyframe's mission is to organize the world of engineering knowledge.

Create meaningful connections between manufacturers, engineers, distributors, and buyers.
Build tools to help engineers design great products faster.
Foster communities that promote idea sharing and feedback.