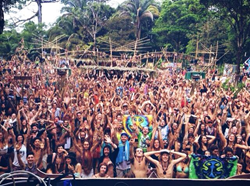 The festival is the epitome of Pura Vida.
Manuel Antonio, Costa Rica (PRWEB) March 06, 2015
Tulemar Resort in Manuel Antonio, Costa Rica, was ecstatic to welcome many world travelers into their area for the annual Envision Yoga and Music Festival. The festival, based in the town of Uvita, just an hour south of the luxury resort, is a four-day experience in which people from all over the globe come together to celebrate life through yoga, music, and conscious living.
The festival takes place in late February, this year from February 26th to March 1st, 2015. Each day, there are workshops that promote yoga, sustainability, traveling, and community building. At night, the music echoes through the jungle, sparking the interest of the local howler monkeys, who occasionally stop by to watch 5,000 people dancing joyously in the night.
This was the fifth year of the festival, and Tulemar concierge, Mari Borge, said it was the best: "I have been to every single Envision, and each year was amazing in its own way. This year, however, had so much energy. I love seeing this festival grow and more and more people come from around the world to learn from one another each year."
The energy Borge mentions perhaps could be attributed to the fact that this was the first year the festival sold out, proving that its notoriety is growing. That growth seems to be a positive, as the attendees of the festival come to Uvita ready to help give back to the community. Before the music and yoga kicked off, the festival hosted an "Permaculture Action Day" in which many attendees and music headliner Polish Ambassador planted 100 fruit trees at three different elementary schools in Uvita. This "Permaculture Action Day" is just a small microcosm of the festival's ecological initiatives. The festival is a "Leave No Trace" event, that promotes composting and recycling. The festival also partnered with Community Carbon Trees, an organization that offers solutions to carbon dioxide emissions and the protection of trees, giving 5% of ticket sales back to the organization.
Tulemar, which offers bungalows and large privately owned vacation rental properties to visitors, sees these initiatives to be a great way for travelers to share the country's ecological focus. Tulemar spokesperson, Dave Houck, expressed his excitement for the festival goers to join in protecting the beauty of the Central American country, saying, "Costa Rica is one the most beautiful places in the world, and one many love to visit. Having our visitors wanting to be a part of keeping it beautiful is just spectacular."
All of this hard work to give back and promote environmental consciousness is celebrated equally as hard. Each day, thousands pour onto the festival's beach and watch the sun as it slowly falls in the Pacific horizon. As the sun slowly disappears, cheers and drums get louder and louder, giving rise to the energy that ensues in the night. The music begins at sundown and goes until sunrise. The unofficial motto each night seems to be "celebrate and love life," and that celebration is evident in the 5,000 people dancing with one another. The unofficial motto coincides perfectly with the Costa Rican motto of Pura Vida, which means "pure life" or "everything is good."
Borge summed up the Pura Vida effect at Envision, saying, "Envision is really the perfect melding of working for one another and celebrating one another. It is the epitome of Pura Vida. The fact that we can share our Pura Vida lifestyle with people from all over the world, who come to celebrate and give back to our country, is just so amazing. It really makes for the perfect experience every year."