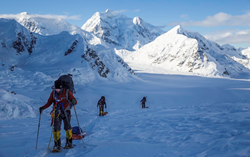 I want to show young people with hemophilia what's possible.
Denver, CO (PRWEB) March 06, 2015
Mt. Kilimanjaro. Mt. Elbrus. Mt. Aconcagua, and Mt. McKinley. What do these mountains have in common? Each is the highest peak on their respective continent: Africa, Europe, South America, and North America and each has been summited by Chris Bombardier, a 29-year-old from Denver, Colorado whose goal is to become the first person with hemophilia to climb the highest peak on each continent.
Hemophilia is a rare genetic disorder that prevents blood from forming an effective clot. Untreated bleeds from internal or external injuries can lead to painful joint deformities, crippling, brain damage, and possibly death. Chris was diagnosed with severe hemophilia B at birth.
March is Hemophilia Awareness month and on March 6, Chris will undertake his most technical climb yet. Carstensz Pyramid is the highest mountain in Oceania standing at 16,024 feet above sea level. The mountain is in a remote area of Papua, Indonesia and the climb will involve specialized skills such as rock climbing, rappelling, and a tyrolean traverse. Chris will end the climb with a 4-5 day trek through an isolated region of the Papua jungle.
The Seven Summits Quest began when Chris traveled to Kenya on a work-related trip. While there, he witnessed the difficulties of those living with hemophilia in less developed regions of the world and decided he wanted to do anything he could to help. Chris declares, "Of course I look forward to standing on the summits of these incredible mountains and feeling the accomplishment of doing it with hemophilia. I want to show young people with hemophilia what's possible. Our world is an amazing place, and I don't want people with hemophilia to think they have to live in a bubble. I want them to get out and experience life to the fullest!" But, more importantly, Chris is committed to spreading the word about hemophilia and raising people's awareness of the huge disparity in care that exists in the world.
Although this climb is not a traditional fundraiser, Chris encourages interested parties to check out Save One Life, a registered nonprofit international organization that offers individuals, families, companies, and/or organizations the opportunity to sponsor a child or adult with a bleeding disorder in a developing country. For hemophilia awareness month, Save One Life is hoping to find a new sponsor every day.
Chris is partnering with LA Kelley Communications for this 5th summit of his quest. For more information, check out AdventuresOfAHemophiliac.com
About LA Kelley Communications, Inc.
Since 1990, LA Kelley Communications has been a world leader of groundbreaking educational materials and programs on hemophilia and related bleeding disorders. With more than a dozen books, numerous publications, and the oldest hemophilia newsletter in America, LA Kelley Communications remains a trusted source of practical information about raising children with bleeding disorders. Laureen A. Kelley founded the company in response to the need for practical consumer and parenting information on bleeding disorders. For more information about LA Kelley Communications, Inc., please visit http://www.kelleycom.com or call 978-352-7657.
About Save One Life, Inc.
Save One Life is a nonprofit organization that offers direct sponsorships to individual children with a bleeding disorder in developing countries. Hemophilia is a devastating inherited blood disorder that can still cause severe pain, crippling and even death when untreated. In developing countries there is usually no budget to purchase the blood-clotting medicine needed to sustain life. For under a dollar a day a child or adult with hemophilia can be sponsored. Save One Life is also a development tool that helps promote long term care and NGO capacity-building by training and monitoring for progress. Save One Life was founded in 2000 by Laureen A. Kelley, author and President of LA Kelley Communications, and a mother of a child with hemophilia. For more information, visit http://www.saveonelife.net or call 978-352-7652.