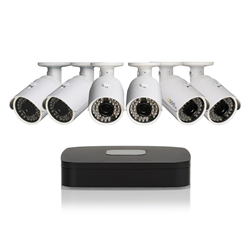 Q-See is the first surveillance company to release hi-definition 1080p products using BNC wiring to the consumer market
Anaheim, CA (PRWEB) March 06, 2015
Q-See surveillance systems proudly announces new BNC HD 1080p products available exclusively at Costco.com.
Q-See is the first surveillance company to release hi-definition 1080p products using BNC wiring to the consumer market. Pairing high definition capabilities with the familiar wiring type means there is no need to run new cables during your upgrade. The owner simply needs to switch out their existing cameras and DVR for an instant upgrade that will help you know more and worry less.
The Q-See HD BNC line of products specializes in ease of integration in bringing superior high definition surveillance to the consumer and "DIY" market. By pairing with Costco, consumers have the ability to purchase high definition products at the best value on the market.
At a fraction of the cost of competing surveillance systems, the BNC line offers true 1080p high definition without the hassle of stressful setups or complex networking. The cables will transmit video, power, and audio, while having the ability to control PTZ or dome auto focus cameras.
Images are easily streamed to your smartphone or tablet in 3 easy steps that make instant live viewing a breeze. Nighttime security is also worry free with up to 80 feet of clear, high definition night vision images.
The Costco bundle features six cameras, eight channels, and two terabytes of storage. Products are available for purchase online at Costco.com.
About Q-See
Q-See is the forward-thinking solution for those who value performance and efficiency without ever sacrificing the user experience. Q-See aims to support consumers and business owners by empowering them to focus on living their lives, because we believe safety is a right for all.
We provide easy-to-use smart surveillance solutions that feature cutting edge technology and enhance the lifestyles of those who use them. Q-See sets industry standards, constantly evolving alongside the ever-changing connected technology landscape. To anyone who wants true peace of mind, Q-See is the smart security brand that provides sleek, user-friendly, and innovative security - because your surveillance system should not only fit, but enhance your lifestyle. Q-See surveillance solutions are widely available through leading online and storefront retail channels as well as a growing base of international distributors. To learn more about Q-See and its products, please visit http://www.Q-See.com.