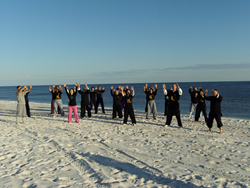 Over the years DeRu has developed Tai Gong, his own amalgamation of Tai Chi, Zen meditation and Qi Gong, designed to redirect the body's natural energy or "Qi" to and through Jing Luo (healing meridians or healing energy points) located throughout the bod
Atlanta, GA (PRWEB) March 10, 2015
Saturday, April 25th, Shaolin Institute observes World Tai Chi and Qi Gong Day with a 9:00 a.m. breathing meditation to start and followed by a talk of happy health Zen meditation and Tai Gong through quantum conscious communication and cosmic Qi. The event will also present Zen Tai Gong and Kung Fu demonstrations, teachings and festivities at Shaolin park (4350 PeachTree Industrial BLVD), on Peachtree Corners, GA 30071.
This free public event is hosted by SCF and sponsored by Shaolin Institute. This is a worldwide global health and healing event which will begin in New Zealand at 10:00 a.m. and spread time zone by time zone around the globe as it has since 2002. Locally, Shaolin Grand Master Shi Deru, along with Shaolin Institute staff members will demonstrate the ancient Chinese healing art of Tai Chi (pronounced "tie-chee") and Tai Gong with meditation.
People of all ages, fitness levels, and abilities are invited to freely participate in cosmic Qi lecture, Qi Gong ("chee-gung") breathing mind exercises and to learn basic Tai Chi movements alongside Grand Master Shi DeRu and his highly trained instructors.
These ancient arts not only provide significant health benefits, but have the added advantage of "not feeling like exercise". Tai Chi and Zen Tai Gong are simple, slow, fluid, movements that, along with naturally controlled deep breathing, create cosmic Qi space, calmness of mind, body, and spirit.
This graceful art of Zen Tai Gong like health Tai Chi includes relaxing and stretching and each form or posture is supposed to flow seamlessly into the next. Zen Tai Gong is similar to Tai Chi and Qi Gong combined, a slow mental and physical Qi exercise, so the movements are in high conscious stream of mind with very easy motion on muscles, ligaments, tendons, and joints, making it an ideal exercise therapy for the aged, injured, and even disabled individuals.
Close to 30 years ago, Shi DeRu, also known as Shawn X. Liu, founder and Chair of SCF and Headmaster of Shaolin Institute, brought Qi Gong and traditional Tai Chi to the southeastern U.S., opening schools in Georgia, Alabama and Louisiana. He has devoted his life to helping people and is doing so through generous community outreach efforts like World Tai Chi Day, Asian cultural celebrations, and martial arts performances by his highly acclaimed Shaolin Institute Performance Team worldwide.
Over the years DeRu has developed Tai Gong, his own amalgamation of Tai Chi, Zen meditation and Qi Gong, designed to redirect the body's natural energy or "Qi" to and through Jing Luo (healing meridians or healing energy points) located throughout the body.
This dynamic cosmic Qi is the body's natural healing mechanism, stimulating blood flow, improving organ function, and awakening the communication channels between mind and body while strengthening muscles and ligaments.
Zen Tai Gong like Tai Chi helps in the treatment of anxiety, depression, back pain, arthritis, low bone density, breast cancer, Parkinson's disease, sleep disorders, and speeds rehabilitation after a stroke.
Grand Master Shi Deru has helped many students overcome life-threatening conditions that did not respond well to conventional therapies. He credits success to the "mindset and cosmic qi flow" in one body-mind system.