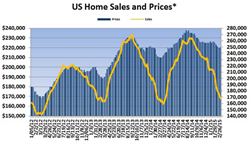 Prospects that get pre-approved for a home loan now while listing prices and mortgage rates remain lower than in expected future months will gain an advantage
Chicago, IL (PRWEB) March 05, 2015
Lenders like Peoples Home Equity were disappointed to see yet another falling week of median home sales. As shown in today's "National Home Sales Snapshot" from Corelogic.com, weekly home sales have declined by 4,673 (-2.7%) to 167,735. Sales fell from being up 2.8% versus a year ago last week, to just 2.1% this week. Sales versus 3-years ago have fallen significantly. Two weeks ago sales were 17.1% higher than 3-year ago, now they are up just 11.8%.
On a positive note, median home sale prices remained unchanged from the past 2 weeks prior at $220,000. Sale prices also remained unchanged at 4.8% versus a year ago, which is the highest year-over-year change sales have been in 2015. This strength in median home sale prices versus the fall in sales highlights just how great demand is over limited housing supplies. Peoples Home Equity knows their sales will be increasing again during the spring and summer which is just around the corner. It is almost obvious that home sale prices will increase with increase sale activity. Thus, Peoples Home Equity strongly encourages prospective home buyers to get approved for a home loan now while shopping for a home is still affordable. Not only should buyers pay attention to sale prices but also mortgage rates. Prospective buyers should note that the Federal Reserve plans on raising interest rates later this year which will raise the cost of borrowing overnight by lenders. Prospects that get pre-approved for a home loan now while listing prices and mortgage rates remain lower than in expected future months will gain an advantage. Shopping in a less competitive environment, means better bargain bidding on properties, ad more attentive real estate agent, and a more affordable mortgage.
Regardless of the discrepancy between median home sales and prices, one should remember that real estate activity is always weak in the winter and strong in the summer. Thus, one should expect higher real estate activity when the weather begins to warm. Lenders like Peoples Home Equity, eager for ever increasing mortgage applications are waiting for just that, warmer weather.
If in need of a mortgage, contact a Peoples Home Equity loan officer today at: 262-563-4026