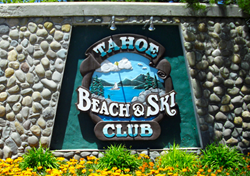 'The addition of Tahoe Beach & Ski Club is an excellent opportunity to expand our already-deep roots in the Lake Tahoe area.' -David Brown, Co-President of Grand Pacific Resorts
Carlsbad, CA (PRWEB) March 05, 2015
Grand Pacific Resorts has added Tahoe Beach & Ski Club to its portfolio of managed timeshare resorts.
Located on the shores of the spectacular Lake Tahoe, just minutes from downtown South Lake Tahoe, Tahoe Beach & Ski Club blends the ease of lakeside living with close proximity to Heavenly Mountain and Stateline, Nevada. The resort features 140 condo units spread out over six buildings. The units range from two-person studios to a spacious, six-person cabin. All have warm, mountain-inspired furnishings and full or partial kitchens. Outdoor amenities include a pool and spa overlooking the resort's spectacular 400-foot private beach.
David Brown, Co-President of Grand Pacific Resorts, says, "The addition of Tahoe Beach & Ski Club is an excellent opportunity to expand our already-deep roots in the Lake Tahoe area."
The Tahoe region is also the site of two other Grand Pacific managed resorts: Red Wolf Lakeside Lodge (Tahoe Vista, CA) and Red Wolf Lodge at Squaw Valley (Olympic Valley, CA).
Lake Tahoe is one of Northern California and Nevada's most popular vacation destinations. Tahoe Beach & Ski Club's lakefront location, which provides incredible views year-round and the opportunity to boat, swim, and sunbathe throughout the summer, is an idyllic spot to enjoy the areas. The resort also has complimentary kayaks—perfect for an unforgettable family adventure.
David Brown adds, "Tahoe Beach & Ski Club is a great resort with a strong commitment to providing owners and guests with exceptional family vacations. It is the perfect opportunity for us to deliver memorable vacation experiences that our owners have come to expect from properties managed by Grand Pacific Resorts."
"Our team's reputation for creating memorable vacation experiences as we enrich the lives of our Owners, Exchangers and Guests has been instrumental in our continued growth and demand for our services," added Nigel Lobo, COO of this growing timeshare management company. "We are so pleased to be able to provide more than 70,000 families with our award winning service culture. More and more HOAs are seeing the value that our owner engagement, fiscal responsibility, and a genuine attitude of hospitality and service can bring to a resort. Our reputation is driving our success and owner referrals continue to be our greatest new business development component."
Included in the Tahoe Beach & Ski Club's full-service management contract are resort operations, design and purchasing, renovations, and owner services including inventory and reservations support. Grand Pacific Resorts will also handle all maintenance fee billing and collections through Advanced Financial Company (AFC), a Grand Pacific affiliate. Existing Tahoe Beach & Ski Club owners will benefit from Grand Pacific Resorts' full suite of rental offerings through ResorTime, as well as internal exchange services through Grand Pacific Exchange (GPX). 
For more information about Tahoe Beach & Ski Club, visit http://www.tahoebeachandski.com or http://www.grandpacificresorts.com/locations/tahoe-beach-ski-club/.
Grand Pacific Resorts creates experiences worth sharing for more than 70,000 owner families and tens of thousands of loyal guests each year. Based in Carlsbad, California, our resort management team tailors its services to preserve the distinctive experience offered by each destination. Owners and guests vacation with us year after year because they appreciate Grand Pacific Resorts' heartfelt service culture and passion for what we do. Associations choose to stay with us because of our commitment to a shared vision of engaged owners, our physical maintenance standards, and the financial strength we build within our HOAs. For more information, visit http://www.grandpacificresorts.com or contact Sherri Weeks Rivera at sweeks(at)gpresorts(dot)com or (760) 827-4190.
Media: Georgi Bohrod (619) 255-1661
Contact: Lisa Wanzenried (760)431-8500