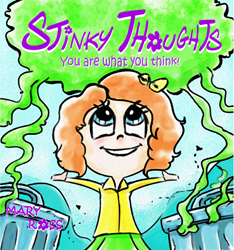 A man is but the product of his thoughts. What we think we become ~ Jesus Christ, Gandhi
Las Vegas, Nevada (PRWEB) March 10, 2015
Destructive thinking patterns can be dangerous. It is an unchanging, time-tested principle that people become what they think, and overcome obstacles through the way that they think. If a person doesn't control what he or she thinks, he or she can't control what he or she does. That's the principle behind Mary Ross's most recent book, Stinky Thoughts: You Are What You Think.
In the new yet timeless children's book, a little girl named Lily embarks on a journey to true happiness. Author Mary Ross uses colorful illustrations and fun rhymes to tell a beautifully fun story about how people are what they think. The book is meant to warm the heart and clear the head, to right the world and remind readers of what really matters. As Lily discovers, most problems can be solved simply by changing one's perspective. Stinky Thoughts will aid children's positive thinking skills and development of character.
"We are created to think in positive mode to reach our full potential," says author Mary Ross, who has seen positive people succeed above the curve in all areas of life. "Positive thoughts release dopamine, which turns on all the brain's learning centers and increases our happiness, energy, intellect, creativity and athletic ability. You can do anything if you believe you can. It is only our thoughts that limit us."
Stinky Thoughts can help parents become aware of their children's thinking patterns, getting to the root of any negative attitudes or behaviors. Each day is filled with opportunities to teach and guide children to right thinking and positive thinking. Stinky Thoughts is the perfect tool to help kids think positive and succeed.
If your thoughts stink your life will too! Happy kids make happy parents. As Lily discovers, it's never too late to live happily ever after.
Stinky Thoughts: You Are What You Think is available on Amazon.
For more information about the book and the author, please visit http://www.stinkythoughts.com