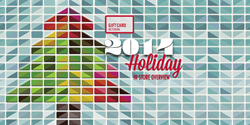 "Gift cards continue to grow in importance for retail and other merchant types. This project highlights the way merchants are driving consumer interest for this growing product." Matt Davies, CEO, Powerhouse Brands
Vancouver, WA (PRWEB) March 06, 2015
The 2014 Holiday In-Store Gift Card Overview comprehensive study was sponsored by Powerhouse Brands, a gift card consulting and design firm, and Travel Tags, Inc., a gift card manufacturer and fulfillment house. The research team visited over 185 unique brands in the Midwest, East Coast and West Coast and recorded their findings in a comprehensive info graphic, produced by Powerhouse Brands.
Here were some of the key findings:

1,359 unique card faces observed
33 brands had third party malls in their location
59% of card faces were printed in 4 over 1 color on PVC
8% of card faces were printed on high end, engineered paper
19% of brands did not display their gift cards
4 of the 185 brands visited did not have gift cards
Gift cards continue to be the most popular gift during the holidays. Consumers appreciate being able to pick out their own product and treat the gift card as found money, which more frequently than not, drives significant traffic and sales for Merchants. Of the Merchant brands visited during holiday of 2014, gift cards were an important and visible part of their in-store holiday strategy.
To view the 2014 Holiday In-Store Gift Card Overview, including observations on gift card packaging, in-store signage, holiday promotions and specialty cards, visit The Gift Card Network.
The info graphic is also included in the Gift Card Network Challenge Guide.
About Travel Tags:
Travel Tags, Inc. is a global manufacturer of unique gift card solutions under the Travel Tags brand, and specialty print products under the Virtual Images brand. As a partner to some of the world's most respected brands, Travel Tags produced over 500 million gift cards in 2014. The company has an impressive history as an innovative trend leader, generating customer-driven solutions and the highest quality available in the markets we serve. Travel Tags' turnkey solutions include design, fulfillment, packaging, personalization and a broad range of specialty printing. Visit traveltags.com for more information.
About Powerhouse Brands:
Powerhouse Brands is a gift card management firm, specifically focused on providing consulting, management, marketing, and media creation services to the gift card industry. Visit powerhousebrands.com for more information.
About the Gift Card Network:
The Gift Card Network is the first gift card-specific marketing and collaboration platform. The network focuses on the identification of vital issues in the gift card industry and empowering its members to address these issues using connection, collaboration, and creativity. Members include companies that focus on the gift card industry. Find Everything Gift Card at thegiftcardnetwork.com.