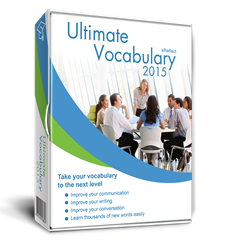 ...these components work hand in hand in enriching people's lexicon with active words: words they can retrieve and use in the right context at the right time.
New York City, NY (PRWEB) March 08, 2015
eReflect is the designer of vocabulary builder software Ultimate Vocabulary™. The company reported today that its software is now among the featured programs on the AlternativeTo website, alongside Vocabulary.com, a prestigious vocabulary web tool. Power vocabulary is a quintessential skill for people who want to improve their communication abilities. eReflect believes that having its software featured on AlternativeTo means that more individuals will be able to consider it as an option when they are looking for ways to improve vocabulary competency. AlternativeTo praises Ultimate Vocabulary™, saying that the software is known for "[u]sing proven science to make vocabulary building fast and easy."
The AlternativeTo.net verdict on the vocabulary builder also highlights the step-by-step support offered to learners, along with instructional, easy to follow video tutorials. The evaluator also points out the program's progress tracking tool for monitoring individual user improvement, and its unrivaled dictionary-like database of more than 142,647 words, something that is available to all users at all learning levels.
Ultimate Vocabulary™ is featured on the website as an alternative to Vocabulary.com, which is a popular web tool. eReflect's software received this distinction in part because it uses an adaptive learning methodology that helps people improve their vocabulary according to AlternativeTo. eReflect and the design team behind Ultimate Vocabulary™ announced through a spokesperson today,
"Ultimate Vocabulary™ was built with efficiency and user ease in mind. Every activity, game, and lesson is designed by experts and informed by the latest research on vocabulary and language acquisition and mastery. We hope that the program will help people become better communicators, able to handle words efficiently in every given context."
Ultimate Vocabulary™ is a recent addition to the AlternativeTo vocabulary software category, and rivals Vocabulary.com in efficiency and value. AlternativeTo.net offers access to a detailed review of Ultimate Vocabulary™ that gives readers a more thorough look into the program's capacities, tools, and technologies. This review also highlights how these components work hand in hand in enriching people's lexicon with active words: words they can retrieve and use in the right context at the right time.
***********
For more information on how you can benefit from Ultimate Vocabulary, please visit its official website, http://www.ultimatevocabulary.com.
About Ultimate Vocabulary™
Ultimate Vocabulary provides a proven and powerful platform, built to improve anyone's vocabulary.
The interactive self-improvement system provides more learning tools than any other program on the market, as well as more information on words.
The Ultimate Vocabulary software provides each and every user with a personal computer tutor. Providing a step-by-step guide to learning a powerful vocabulary, Ultimate Vocabulary is the learning tool everyone can benefit from.
Of course, the software is also backed by eReflect's iron-clad money back guarantee.