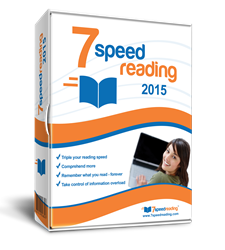 By choosing e-readers wisely, people will possess useful tools that promote learning without compromising their quality of life and health.
New York City, NY (PRWEB) March 09, 2015
If using a digital device to read before bedtime affects sleep patterns and quality, should people think twice about their nocturnal reading habits? The developers behind the speed reading program 7 Speed Reading™ are not only focused on improving people's lives through accelerated and optimized reading habits, they're also concerned about the health of readers, particularly bibliophiles who are in the habit of reading in bed at night.
In an informative, eye-opening post on the official 7 Speed Reading™ blog, the site's editor explains that certain e-readers and tablets can dramatically disrupt a person's sleep cycle. The results can include reduced quality of sleep, insomnia, and in certain cases decreased focus and productivity the following day. Citing a recent study that discovered the connection between back-lit e-readers and suppressed melatonin production, the eReflect team notes that this might be why people sometimes find it hard to fall asleep after e-reading.
Melatonin is the hormone produced by the body that is responsible for signaling both the body and the brain that it's time to sleep. By suppressing this basic function of melatonin, the body is tricked in believing that it should continue to be alert and awake.
eReflect and the 7 Speed Reading™ editor advise people to be aware of this fact, saying, "Unfortunately, tablets and e-readers are not the only devices with LCD screens. Smartphones, TVs, and computer monitors also emit short-wave light and could be responsible for your inability to sleep. For at least two hours before your bedtime, abstain from using any LCD screen device and see if your sleep improves."
While reading offers undoubted pleasure and companionship to millions of people, it is important that everyone understands the possible hazards of technology abuse, and the significance of getting top quality devices. By choosing e-readers wisely, people will possess useful tools that promote learning without compromising their quality of life and health. People ought to be careful with their use of technology, especially back-lit devices. Reducing the use of these devices before bedtime will help ensure that their sleep is not disrupted or compromised. Switching to print book reading might be one solution for the committed bedtime reader, eReflect concludes.
************
For more information about the benefits of using 7 Speed Reading, please visit the official website at http://www.7speedreading.com.
About 7 Speed Reading™
7 Speed Reading is the only modern speed reading software that uses the latest technology to produce superior results.
The software provides its users with a new way to master speed reading that guarantees three times the reading speed along with improved memory and comprehension.
The software is poised as the most comprehensive speed reading system anywhere. It contains seven learning strategies, fifteen software activities, video training, advanced tracking capabilities and many more exciting features.