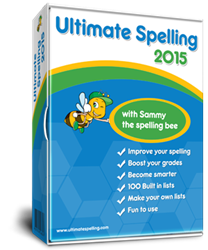 ...the best way to keep orthographobia at bay (a common phobia related to language misuse) is by teaching spelling to themselves and their loved ones.
New York City, NY (PRWEB) March 10, 2015
In a new blog post on the spelling software's official site, eReflect presents modern-day troubles that many of their blog readers will be familiar with: nomophobia, technophobia, threadophobia, cyberphobia, nointernetphobia, telephonophobia and drosmartphobia. As the blog's editors note, these are the seven most prevalent phobias of the tech-centered 21st century.
Nomophobia is a phobia quite common among young smartphone users. It's the irrational fear experienced by people when they are without their priceless mobile device. Without a mobile device people can feel almost helpless. They cannot check their Facebook, Twitter, or Instagram accounts, nor can they be the first to like, tag, or share the "next big thing" bound to go viral.
eReflect is the developer of Ultimate Spelling™, a 21st-century alternative to traditional spelling programs. The latest release of the program offers fun spelling activities to help people improve their orthography, but also connects users with their wider social network as part of the learning environment. eReflect's editors make sure to mention threadophobia in the blog post, noting that this lesser-known phobia refers to sense of being paralyzed by the fear of sharing an opinion online. The Internet is notorious for being a brutally honest and often harsh place where exchanges of opinion can be both stifled and nurtured by the anonymity users can hide behind, and which explains why this fear is so crushing for many online participants.
Cyberphobia is the fear of having personal privacy violated. Sharing personal and financial information on the web, either for shopping or signing up on a website, makes many people tremble with fear. These people are very suspicious of the Internet's safety and are often keen to point out the vulnerabilities and hazards of using the Internet, or for that matter any other technological gadgets.
eReflect encourages people to read this post on tech-related phobias. The editors also remind readers that the best way to keep orthographobia at bay (a common phobia related to language misuse) is by teaching spelling to themselves and their loved ones.
***********
For more information about how Ultimate Spelling software can improve spelling performance for you and your family, please visit the official website at http://www.ultimatespelling.com.
About Ultimate Spelling™
Ultimate Spelling provides a modern and easy to use spelling software that has been designed with one goal in mind – making children want to learn.
It is a fast and easy way to master even the most complicated spelling, without the need to write long lists or complete boring tests.
In fact, Ultimate Spelling provides more than just spelling help. It is a complete educational resource that boosts all level of a child's literacy.
Containing a personal computer tutor, Ultimate Spelling is the most realistic step-by-step guide to flawless spelling ability.