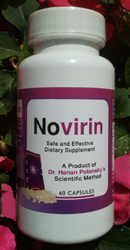 These results are encouraging, but unfortunately a sample size of just 2 is extremely small. That's why we recommend the proven formula of Novirin. - Greg Bennett, CBCD
Rochester, NY (PRWEB) March 08, 2015
"Infected with the herpes simplex virus (HSV-1 or HSV-2)? The Center for the Biology of Chronic Disease (CBCD), which tested the formula of Novirin in two post-marketing clinical studies, recommends taking this natural antiviral supplement." – Greg Bennett, CBCD
Laser therapy that targets sores caused by the herpes virus may help speed healing. Dr. Charles Patrick Davis, wrote that "research findings suggest laser treatments may speed healing and lengthen the time before any sores reappear." (1) Dr. Davis is a board certified Emergency Medicine doctor who currently practices as a consultant and staff member for hospitals. The Center for the Biology of Chronic Disease (CBCD) agrees, pointing out that some of this research is described in case reports, which showed that when laser light therapy (LLT) was used, herpes patients were symptom free for up to 17-months. For example, "two clinical cases are described with recurrent labial herpes for which LLLT was used. Following treatment, both patients remained symptom free during the 17-month clinical follow-up period." (See Revista da Sociedade Brasileira de Medicina Tropical, from 2011) (2) The CBCD suggests that these results are encouraging, but unfortunately a sample size of just "2" is extremely small. Additionally, Dr. Carlos de Paula Eduardo and colleagues wrote that "according to the literature, none of the laser treatment modalities is able to completely eliminate the virus and its recurrence." (See Lasers in Medical Science, from 2012) (3)
The CBCD points out that most treatments against the herpes virus are antiviral drugs, and they do not eliminate the virus permanently from the body either. "Two types of antiviral treatments against HSV are available: topical and oral. The treatments include penciclovir, acyclovir, famciclovir, and valaciclovir. However, their effectiveness is limited. For instance, a meta-analysis of five placebo-controlled and two dose comparison studies evaluated the effect of aciclovir, famciclovir or valaciclovir on symptoms. The meta-analysis showed that oral antiviral therapy decreases the duration and the associated pain of an outbreak by merely one day." (See Pharmacology & Pharmacy, from August 2013) (4)
In fact, treatments against the herpes virus are designed to fight the active virus only. According to the CDC, "drugs neither eradicate latent virus nor affect the risk, frequency, or severity of recurrences after the drug is discontinued." (See the CDC, from January 28, 2011) (5) Novirin, on the other hand, is a natural antiviral product with a formula designed to help the immune system target the latent herpes virus.
Click to learn more about herpes and Novirin.
The formula of Novirin was tested by Hanan Polansky and Edan Itzkovitz from the CBCD in two clinical studies that followed FDA guidelines. The studies showed that the Novirin formula is effective against the herpes family of viruses, including HSV-1 and HSV-2. The clinical studies were published in the peer reviewed, medical journal Pharmacology & Pharmacy. The first study was published in a special edition on Advances in Antiviral Drugs. Study authors wrote that, "individuals infected with the HSV … reported a safe decrease in their symptoms following treatment with (the formula of Novirin)." (4) The study authors also wrote that, "We observed a statistically significant decrease in the severity, duration, and frequency of symptoms." (4)
Novirin can be ordered online on the product website, here: http://www.novirin.com.
Novirin is a natural antiviral dietary supplement. Its formula contains five natural ingredients: Selenium, Camellia Sinesis Extract, Quercetin, Cinnamomum Extract, and Licorice Extract. The first ingredient is a trace element, and the other four are plant extracts. Each ingredient and its dose was chosen through a scientific approach. Scientists at polyDNA, the company that invented and patented the formula, scanned thousands of scientific and medical papers published in various medical and scientific journals, and identified the safest and most effective natural ingredients against latent viruses.
To date, Novirin is the only natural antiviral products on the market with published clinical studies that support its claims.
"While the main advantages of the laser treatment against herpes sores appear to be the absence of side effects and drug interactions, which are especially helpful for older and immunocompromised patients (3), we recommend that individuals who wish to help the immune system target the latent HSV, take Novirin." - Greg Bennett, CBCD
Interested individuals can view the studies published on the antiviral formula of Novirin here:
http://cbcd.net/Gene-Eden-VIR-Clinical-Study.php
and
http://cbcd.net/Gene-Eden-VIR-Decreases-Fatigue-Clinical-Study.php.
All orders of these products are completely confidential, and no information is shared or sold to any third party. Privacy is assured.
References:
(1) Charles Patrick Davis, MD, PhD "Oral Herpes." Emedicinehealth.com. Last reviewed February 27, 2015
http://www.emedicinehealth.com/oral_herpes/page7_em.htm
(2) Dennis Carvalho Ferreira, Helena Lucia Barroso Reis, Fernanda Sampaio Cavalcante, Kátia Regina Netto dos Santos and Mauro Romero Leal Passos "Recurrent herpes simplex infections: laser therapy as a potential tool for long-term successful treatment." Revista da Sociedade Brasileira de Medicina Tropical 44(3):397-399, mai-jun, 2011
http://www.scielo.br/pdf/rsbmt/v44n3/v44n3a29.pdf
(3) Carlos de Paula Eduardo, Ana Cecilia Corrêa Aranha, Alyne Simões, Marina Stella Bello-Silva, Karen Muller Ramalho, Marcella Esteves-Oliveira, Patrícia Moreira de Freitas, Juliana Marotti, Jan Tunér "Laser treatment of recurrent herpes labialis: a literature review."Lasers in Medical Science. Published in July 2014
http://link.springer.com/article/10.1007%2Fs10103-013-1311-8
(4) Polansky, H. Itzkovitz, E. Gene-Eden-VIR Is Antiviral: Results of a Post Marketing Clinical Study. Published in September 2013.
http://www.scirp.org/journal/PaperInformation.aspx?PaperID=36101
(5) CDC.gov - 2010 STD Treatment Guidelines - Diseases Characterized by Genital, Anal, or Perianal Ulcers. Last reviewed January 28, 2011.
http://www.cdc.gov/std/treatment/2010/genital-ulcers.htm