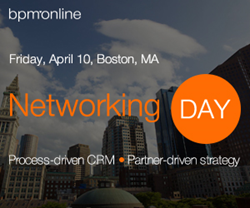 Boston, MA (PRWEB) March 16, 2015
Bpm'online, a premium vendor of process-driven cloud software for sales, marketing and service automation, is happy to announce Networking Day - one-day fast-paced event designed to bring together CRM industry experts, bpm'online partners, and clients.
Bpm'online Networking Day, which will be held on Friday, April 10, in Boston, MA, provides the unique opportunity to meet and collaborate with bpm'online community, connect with bpm'online executives and team members, share great insights, ideas, and best practices.
Special guest and featured speaker of this year's bpm'online Networking Day is Paul Greenberg, the author of the best-selling CRM at the Speed of Light, President of The 56 Group, LLC, and Executive Vice President of the CRM Association.
The event will showcase:

Bpm'online's process-driven CRM: discover the latest updates to bpm'online's CRM solutions to manage the entire customer journey – marketing, sales and service processes – on a single platform.
Partner-driven strategy: learn about bpm'online's unique partner program focused on building a sustainable high-profit business based on recurring revenue and a shared client relationship.
Take advantage of extensive networking opportunities. Meet and collaborate in an informal atmosphere while enjoying the beautiful harbor views from the luxurious State Room located on the 33rd floor of the prestigious 60 State Street, Boston.
Attendance is free of charge for bpm'online partners and customers.
Save the date! Join bpm'online Networking Day!
About bpm'online
Bpm'online is a premium vendor of process-driven cloud software for sales, marketing, and service automation. The beauty and the core value of bpm'online products are out-of-the-box processes that guide users through the most effective actions to boost results. Users love bpm'online's engaging interface with social look and feel, free from redundant information that keeps them focused on what's relevant. Today, the company employs 500+ experts and serves over 6,000 customers worldwide.
For more information, visit: bpmonline.com