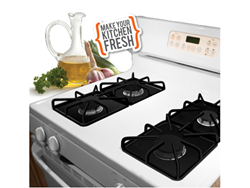 Make Your Kitchen Fresh! Better Fit! Better Function! Better Value!
Lima, OH (PRWEB) March 07, 2015
Since 1971 Range Kleen has been attending and showcasing Range Kleen Mfg. Inc. products in Chicago, IL at the McCormick Place. As the 44th year attending, Range Kleen Mfg. Inc. will be introducing new and innovative products that focus on a better fit, better performance and better quality than competitors to make your kitchen fresh.
On March 7, 2015 one of the many new products that will be introduced to spectators is the reusable Non-Stick Gas Stovetop Liner. Keeping stoves clean has never been easier. The new Non-Stick Gas Stovetop Liners prevent messy spills and boil-overs from sticking to your stovetop, providing an easier clean up when cooking. The liners are easy to use and can easily be trimmed to fit with household scissors. This semi-disposable Non-Stick Gas Stovetop Liner is guaranteed for one year against manufacturer defects to the original purchaser. With proper use and care you can extend and determine the life of the product.
The New Non-Stick Gas Stovetop Liners will be available in a 5 pack with a suggested retail of $9.99. The New Non-Stick Gas Stovetop Liners will be available in stores by the End of Spring. If you are interested in Range Kleen Mfg. Inc. and will be attending the 2015 IH+HS (International Home & Housewares Show) please stop by the Range Kleen booth S3624 located in the South Building to experience new products. However appointments are accepted, if you would like to set up an appointment, send an email to sales(at)rangekleen(dot)com.
About Range Kleen Mfg.
Range Kleen Manufacturing, Inc. is a Lima, OH based company manufacturing household products sold to major retail chains globally and has been taking care of the customer (TCOTC) since 1971. Its product divisions include Original Equipment Manufacturing Quality (OEM) replacement drip pans for ranges & stoves; Non-stick Metal Bakeware; Kitchen Decorative products specializing in exclusive licensed designs; Storage, Organization, insulated food and beverage bottles and household cleaning supplies. Range Kleen Introduced their own line of cookware- Stainless Steel and Enameled Cast Iron as well as pot racks in 2007.
Effective December 21, 2009, Range Kleen Manufacturing was pleased to announce the partnership with Berndes Cookware USA and has taken the lead of all sales, marketing and shipping of Berndes Cookware USA from their International Headquarters in Lima, Ohio.