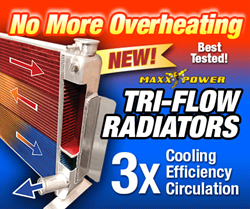 If you plan the route in your classic car based on traffic lights and stop signs, you need a Tri-Flow Radiator.
Pottstown, PA (PRWEB) March 09, 2015
The Eastwood Company, innovators of do-it-yourself automotive restoration tools and supplies, has just introduced a new line of Maxx Power Tri-Flow Aluminum Radiators that reduce engine water temperatures up to 24F. The line consists of three universal mount radiators that pass coolant through the radiator core two times more than conventional radiators. This provides two additional passes in front of the cooling fan which results in additional cooling.
Overheating is a common issue on engines with power adders, when running a stock cooling system. Aftermarket aluminum radiators help with overheating, but may not solve the problem. "Eastwood's new Maxx Power Tri-Flow Radiators are the best we've tested" said Mark Robidoux, Eastwood's Lead Product Developer. "We had an independent lab test the Tri-Flow Radiators on LS engines and their results backed our findings - up to 24F temperature drops. If you plan the route in your classic car based on traffic lights and stop signs, you need a Tri-Flow Radiator."
Eastwood offers three sizes of Tri-Flow Radiators to fit most muscle cars and street rods - 19"H x 22"W x 2.2"D, 19"H x 25.5"W x 2.2"D, and 19"H x 27.5W x 2.2D. The universal design with mount tabs welded to each tank and a traditional upper 1.5 inch inlet installed on the driver side and lower 1.75 inch outlet on the passenger side make this ideal for muscle cars, street rods, pro touring, and more. It also has 1/4 inch NPT welded bungs with Stainless Steel plugs, one located in the bottom driver side tank for a drain and the other under the radiator cap frame for an LS steam port or temp sensor for electric fan controller. Fully TIG welded 6061 aluminum tanks and core assure long life and leak free seams.
In addition to the new radiators, Eastwood is offering aluminum shrouds, Derale electric fans, transmission coolers and fan controllers. The aluminum shrouds feature a hardware-less mounting design for a full custom look.
Eastwood markets unique tools and supplies for repair, restoration, and modification of cars, trucks and motorcycles, as well as for home and garage DIYers. Founded in 1978, Eastwood strives to develop new products to serve the home automotive hobbyist, as well as individuals and organizations focused on the restoration and customization of automobiles and motorcycles. For more information or for hi-res photos, please contact Nick Capinski at ncapinski(AT)eastwood,com or (610) 705-5404.