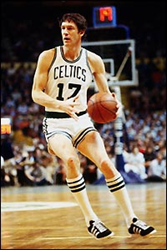 Fort Lauderdale, Florida (PRWEB) March 06, 2015
Chris Havlicek's father, John Havlicek, the former Boston Celtics legend, is among eight new members that will be inducted into the 2015 Basketball College Hall of Fame. The latest group of honorees was revealed back in February during a news conference at the College Basketball Experience in downtown Kansas City.
Havlicek, known as the basketball legend, was not only a basketball player but an all-around remarkable athlete. Early in his career, given the chance to play in the NFL, Havlicek considered the opportunity; but it was basketball that he was truly passionate about. Havlicek played for Ohio State University where he was an All-American team member, assisting in bringing a national championship to the Buckeye nation in 1960. Havlicek's huge success in college was what allowed him to be selected as an alternate to the 1960 Olympic Games for the United States Basketball Team. In 1962, Havlicek's talent was recognized not only by basketball teams, but by football teams as well. The Celtics legend that we know today could have very easily been known for an entirely different career, with NFL's Cleveland Browns.
With a 16 year basketball career under his belt, Havlicek scored an average of 20.8 points, and is ranked as the Celtics' all-time leading scorer and the sixth-highest scorer in NBA history. Today, more than 30 years since John Havlicek won his eighth NBA championship with the Boston Celtics, his legacy still lives on. Known for his prowess on both offence and defense, Havlicek was truly gifted on the court. His constant awareness on the court, endurance and professional attitude during the game made him one of the most standout players who ever lived.
John Havlicek will be inducted into the 2015 College Basketball Hall of Fame on November 20th 2015 at the Arvest Bank Theatre in Kansas City, Missouri. For more information on John Havlicek click here.