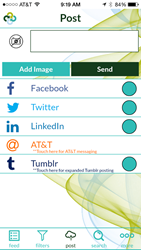 (PRWEB) March 09, 2015
Cincinnati, Ohio: Whether you are a social media wizard, or just new to the game, the new SocialPoint.me is the app for you. With the recent new release last week, SocialPoint has put itself on the map among social media management apps.
SocialPoint.me has incorporated many features that quickly become benefits for users, these features will not only enhance user's social world, but also make it fast and simple. Features like custom social filters, complete social search, complete feed interaction, social contacts and social posting.
We here at SocialPoint believe in bringing a better social experience to our users. We have created a way to enhance your social world with customized tools and features. So if you are interested in seeing what all the buzz about, check us out at the app store!
iTunes
Android