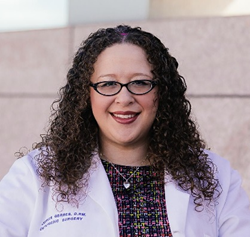 Silver Spring, MD (PRWEB) March 08, 2015
Dr. Jennifer A. Gerres is a 2010 graduate of the Des Moines University College of Podiatric Medicine and Surgery in Des Moines, Iowa. While attending Des Moines University, Dr. Gerres served as a Basic Surgical Skills Teaching Assistant, Lower Limb Anatomy Teaching Assistant, and University Peer Tutor.
Dr. Gerres joins Foot and Ankle Specialists of the Mid-Atlantic, LLC (FASMA) after completing a three-year Podiatric Medicine and Surgery residency at Cleveland Clinic in her native Cleveland, Ohio, specializing in Reconstructive Rearfoot Surgery. During residency, Dr. Gerres served as Academics Coordinator and is a huge contributor to other residents' lectures, research initiatives and presentations to the national scientific meetings. In addition, Dr. Gerres served as an Adjunct Faculty at Lorain County Community College in Elyria, Ohio where she taught students in Surgical Pharmacology.
As a published researcher, seasoned presenter and former Jeopardy! contestant, Dr. Gerres combines empathic patient care with an academic curiosity and lifelong learning.
FASMA is looking forward to having Dr. Gerres' addition to the group with her enthusiastic attitude and competitive nature.