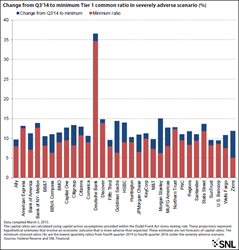 "We would not rule out the possibility of one of the big banks being declared a bum," Oppenheimer & Co. analysts said in a report. But, they added, "we think the probabilities are that the stress test season will yield no major surprises."
(PRWEB) March 09, 2015
Results of the Federal Reserve's stress tests of major banking companies, released after markets closed March 5, demonstrated the capital vigor of the U.S. financial sector and at least formally removed a tag of vulnerability that had hung over Zions Bancorp., the only bank to fall short in the exams a year earlier.
The special stress tests, conducted annually under the 2010 Dodd-Frank Act to assess the capital strength of U.S. bank holding companies with assets of $50 billion or more, found that all 31 companies examined — one more than in 2014 — could ride out a brutal recession and market shock. The tests measured banks' capital buffers against a worst-case scenario in which unemployment nearly doubles and peaks at 10%, home prices sink 25% and stocks plummet nearly 60%.
On an individual basis, to effectively pass the tests, banks had to demonstrate they could weather the harsh hypothetical economic and market scenarios imposed by the Fed and emerge with a Tier 1 common capital ratio above 5%. A year ago, only Zions failed to do that. This year, the tests showed the Salt Lake City-based company would have a Tier 1 common ratio of 5.1%, inching past the Fed's minimum.
Zions separately reported that its own, company-run stress test using the Fed's severely adverse scenario showed that it would post a minimum Tier 1 common capital ratio of 8.6%, well above the regulator's finding.
"We're pleased that banks' aggressive efforts to build capital and liquidity over the last five years have enabled them to perform so strongly even under these severe hypothetical stress scenarios," Frank Keating, president and CEO of the American Bankers Association, said in a statement after the results were released.
Read the full report here: http://www.snl.com/InteractiveX/Article.aspx?cdid=A-31549565-10289