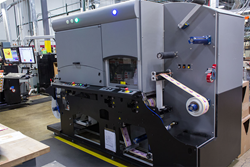 The NW140 has been a very reliable performer for us, but the need for a wider and faster version was apparent to us in order to remain competitive in the marketplace
Itasca, IL (PRWEB) March 08, 2015
Diversified Labeling Solutions, Inc., a leading converter of pressure sensitive labels, has announced the purchase and installation of the new NW210-E Inkjet UV Digital Narrow Web Press with In-line Laser Die Cutting capabilities from Komori America and INX International Ink at its Itasca, IL location.
The new digital label press has a maximum printing width of 210mm (8.25") and can print to any length.
Powered by the JetINX print head drive and ink recirculation system, the NW210-E press delivers a low-heat UV-LED pinning and curing system for single pass output at up to 80-feet-per-minute on a vast variety of label materials. The NW210-E offers the Spartanics X210 laser die-cutting station, five color ink channels and the latest in Xaar patented print technology, which includes fifteen 1002 8-level gray scale print heads capable of printing an apparent resolution of greater than 1,000 dpi. Additionally, the new press features a double-screen workstation allowing press operators to check and manage every part of the process, from file upload to final adjustments.
This digital press offers unprecedented quality for the following markets: Labels, Packaging, Seasonal Products, Variable Data, Durable Labels, Industrial Products, Plastics, Flexible Packaging and Private Label.
Diversified Labeling Solutions is the NW210-E's first buyer and was installed Q4 of 2014. Owner Bob Hakman indicated that when the company purchased the original NW140 press from INX in early 2014, they were planning to upgrade when the next generation press reached the market. Adding a second digital UV ink jet press will help DLS meet more customers' needs.
"The NW140 has been a very reliable performer for us, but the need for a wider and faster version was apparent to us in order to remain competitive in the marketplace and better service our customers. When we learned the NW210-E would be released at this time, we got in line."
About Diversified:
Diversified Labeling Solutions prides itself in partnering exclusively with label distributor clients. The company understands that its success is based on its clients' success and values the long term relationships it enjoys with its distributor base. Diversified remains focused on several areas providing the following benefits to clients:

Highly competitive pricing and consistently excellent quality.
Same day shipments on a wide selection of stock label products.
High quality custom PMS production up to 10 colors & process color printing.
Flexographic and digital printing with in-line laser die cutting.
Knowledgeable staff with strong technical expertise.
Custom quotes are available within 3 hours.
Warehouse label printing and installation services.
Flexible packaging capabilities.
Special packaging, kitting and handling.
Dedicated, experienced customer service personnel.
Nationwide manufacturing, distribution and support.
A team of experienced estimators and technical support personnel assist clients to come up with the best solutions to labeling needs. Diversified puts their clients in the best position to close the deal. Prompt, cost effective pricing, reliable delivery and high quality allow Diversified to be a resource to every client.
Diversified is committed to investing in new equipment, technologies, systems and personnel. By staying on top of key industry trends and always focused on growth, the company remains ahead of the business curve, and that means their clients do as well.
The Diversified motto is "We Only Succeed When You Do." The company lives by that motto every day as it works diligently to support clients' efforts and help them capitalize on label selling opportunities.