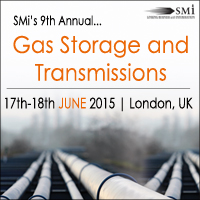 London, UK (PRWEB UK) 9 March 2015
NEWLY RELEASED: According to the CEO of ExxonMobil, the world should prepare itself for a period of relatively weak oil prices. The fall of approximately 50% in oil prices since last summer has led to expectations that US production will soon level off and perhaps go into decline if prices do not bounce back quickly (Financial Times, 2015).
Building on this highly pressing issue of concern, SMi's 9th annual Gas Storage and Transmissions conference, taking place on 17-18 June in London, UK; will feature a highly anticipated talk by Hans-Age Nielsen, Chief Consultant, Business Development from Energinet Gas Storage.
His speech entitled The Role of Gas Storage in the Transition to a Low Carbon Future will answer the question, which is now more relevant than ever: Will the low oil price stop renewable energy? As he discusses the current state of the market, he will also talk about what gas storage has to offer and the different business models for energy storage.
This conference will provide its delegates with an information packed agenda with representatives from across the industry giving a comprehensive overview of the market, looking at the current state of the European Gas market and security of supply, gas transmission and how gas storage will contribute to future demand.
Benefits of attending:
This two day conference will provide delegates with the perfect opportunity to gain an overview of the industry in Europe and the UK as well as create a common voice for future progression:

Discuss the current state of the European Market and security of supply
Deliberate the continued concerns in Eastern Europe
Understand the new EU regulations and new network codes
Hear the latest developments for European and UK gas storage operators
Create a common platform for the industry to reform and move forward together
Scrutinise gas transmission systems and how they can support the European markets
Key Speakers Include:
Alan McFadden, Head of Gas Storage - Commercial, SSE
Andrew Stacy, Director, Stag Energy
Geoffroy Hureau, General Secretary, CEDIGAZ
Craig Dyke, Gas Network Development, National Grid Plc
Mike Madden, Managing Director, MJM Energy
Michael Kohl, Commercial Managing Director, RWE Energie AG
Piotr Kus, Director, Gas Transmission Operator, GAZ-SYSTEM S.A.
Vytautas Ruolia, Commercial Director, Amber Grid