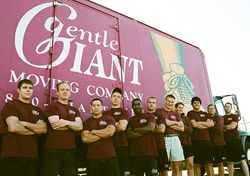 All across the country the Giants are enjoying getting fit and feeling healthier. Everyone wants to be a part of this healthy environment that Gentle Giant supports and encourages.
Boston, MA (PRWEB) March 11, 2015
Boston Moving Company Gentle Giant is pleased to announce their selection by the Boston Business Journal as one of Boston's Healthiest Employers of 2015. In its fifth year, Boston's Healthiest Employers Awards will shine a light on local businesses of all sizes that have made great effort to create extraordinary Health & Wellness Programs for their employees.
The Healthiest Employer Awards Program recognizes employee focused organizations striving to create the healthiest workplace and work force. Organizations apply for this acknowledgment by completing a detailed assessment tool that measures wellness programming in several categories, including culture and leadership commitment, communication and marketing, as well as the various programs and interventions available within the organization's Health and Wellness Plan.
While Gentle Giant is a Massachusetts-based moving company with 20 strategically located offices across the country in major cities, the Health & Wellness Program for each branch office is tailored to provide the best experience possible for every employee. The company's headquarters in Boston is constantly improving upon their Health and Wellness initiatives, to the point where it is ingrained in their work culture across the country. In addition to running boxes and furniture as a team all day on the job, the Giants train for athletic events together in the warehouse's full cross fit gym. This fun YouTube clip shows Gentle Giant Director of Safety John Zimmer discussing this gym and the healthy culture at the company.
"All across the country the Giants are enjoying getting fit and feeling healthier," Gentle Giant Founder and CEO Larry O'Toole explains. "Everyone wants to be a part of this healthy environment that Gentle Giant supports and encourages."
Since opening in 1980, Gentle Giant has advocated active and healthy lifestyles for its employees, most famously demonstrated by O'Toole taking new hires and longtime employees alike out to the Harvard Stadium every week to run all 37 flights of stairs. In the Regional Offices across the country, Gentle Giant managers have developed their own fitness challenges for new hires, including interviews being conducted during a 3 mile run.
About Gentle Giant Moving Company, Inc.
Founded in 1980, Boston-based moving company Gentle Giant is an award winning residential and commercial mover, offering local moving, long distance moving, and international moving services. Named 2009 Independent Mover of the Year by the American Moving and Storage Association, one of the Boston Business Journal's Best Places to Work in Massachusetts in 2004, 2005, and 2006, winner of the 2006 International Torch Award for Marketplace Ethics by the Better Business Bureau, winner of the Better Business Bureau's Torch Award for Excellence in 2002, 2003, 2005 and 2008, nine-time winner of Boston Magazine's "Best of Boston," six-time winner of The Improper Bostonian's "Boston's Best Moving Company" award, twelve-time winner of the Angie's List "Super Service" Award, 2007 Top Small Workplaces award from the Wall Street Journal and Winning Workplaces, and named a Healthiest Employer in 2013 by the Boston Business Journal, the company's services include craning, piano moving, complete packing and unpacking services, and other related services. Gentle Giant offers storage facilities and dispatches crews from more than 19 offices in California, Chicago, Massachusetts, New Hampshire, New York, North Carolina, Rhode Island, Virginia, Washington, DC and Washington State. For more information, please call (617) 661-3333 or visit http://www.gentlegiant.com.