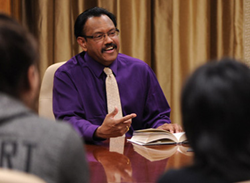 Congratulations to Dr. V Kumar PhD (VK), on being recognized by the American Marketing Association (AMA) as the top ranked author of published scholarly articles over the last five years!
Atlanta, Georgia (PRWEB) March 09, 2015
Big Cloud Analytics, Inc. (BCA), a leading edge real-time analytics technology company, is proud to congratulate its Chief Scientist, Dr. V Kumar PhD (VK), on being recognized by the American Marketing Association (AMA) as the top ranked author of published scholarly articles over the last five years. The AMA made this determination based on a review of the Journal of Consumer Research, Journal of Marketing, Journal of Marketing Research and the Marketing Science journal between 2010 and 2014.
This distinction is especially remarkable because, in addition to the work published in these journals, VK simultaneously produced a substantial body of articles published in other prestigious periodicals such as the Harvard Business Review and the MIT Sloan Management Review.
"I am honored to be associated with a preeminent pacesetter, and Big Cloud Analytics is very fortunate to have VK, the marketplace thought leader as its Chief Scientist," stated J. Patrick Bewley, Chairman and CEO of Big Cloud Analytics. "VK's expertise and know-how are significant factors in making real-time, scalable analytic technology a reality. It is especially interesting and exciting that BCA is applying VK's predictive analytics to customer engagements at the point of buying decision through the embedding our Covalence Platform into the cloud based Internet of Things (IoT)."
"It is special to be recognized for doing the work I love," stated VK. "I enjoy working with rest of the BCA team to bring a lifetime of learnings to the marketplace through the Company's ability to make predictive analytics fast, easy to do and accurate to apply to engaging with customers - right out of the box."
About Dr. V Kumar PhD
Dr. V Kumar PhD (VK), Co-Founder and Chief Scientist of Big Cloud Analytics currently serves as the Editor-in-Chief of the Journal of Marketing, is the Regents' Professor, Chang Jiang Scholar at the Huazhong University of Science and Technology (HUST), Richard and Susan Lenny Distinguished Chair & Professor of Marketing, Executive Director, Center for Excellence in Brand & Customer Management, and the Director of the Ph.D. Program in Marketing at the J. Mack Robinson College of Business, Georgia State University. Along with these and many other accomplishments, VK has authored more than 200 Peer-Reviewed, Scholarly Articles featured in distinguished publications world-wide, and has received eight Lifetime Achievement Awards across several areas of marketing.
About Big Cloud Analytics
Big Cloud Analytics leads the market in real-time predictive analytics technology deployable for secure application to big and small data through the Internet of Things (IoT), hosted platform service, and behind clients' firewalls. Recognized in 2014 by CIO Review as one of the Top 100 most promising companies in Big Data globally, the Company provides technology enabled real-time marketing predictions based on world-renowned science from the top marketing scholar in the world and BCA's proprietary COVALENCETM modeling approach. Big Cloud serves the Healthcare, Financial Services, Retail, Consumer Packaged Goods, Media & Publishing, Telecommunications, and Airline industries. Additionally, the company has the world's premier social media algorithm for valuing social influencers in social media communities such as Twitter, Facebook and Instagram.
The Big Cloud Analytics leadership team has delivered a career combined $6 Billion in ROI for marketers based on its 23 years of the worlds' most acclaimed and proven marketing and data science research.
Big Cloud Analytics and COVALENCE are trademarks of Big Cloud Analytics, Inc.