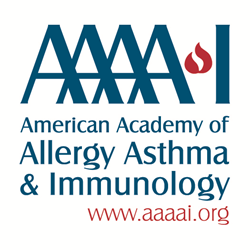 Houston, TX (PRWEB) March 06, 2015
Roughly 5,000 allergist/immunologists, other medical specialists, allied health and related healthcare professionals—all with a special interest in the research and treatment of allergic and immunologic diseases, including asthma—gathered in Houston Feb. 20-24 for the premier event in allergy/immunology.
Cutting-edge research was unveiled at unique sessions, exciting keynotes (including Gideon Lack, MB, BCh, unveiling the Learning Early About Peanut Study) and in hundreds of scientific abstracts.
Top highlights from the meeting include:
• Dust in Middle Eastern deployment area poses significant health risks to veterans. New reports suggest exposure to metals, minerals and microbes can cause lung injury.
"Lung biopsies from veterans' tissue samples show alveolar sacs filled with mineralized particles. The mineralized dust is composed of calcium carbonate coated matrix of metallic silica crystals, hydrides and oxides containing a variety of trace metals ... Microbial analysis also reveals a significant biodiversity of bacterial, fungi, and viruses of which about 30% are known pathogens," Mark B. Lyles, MA, MS, DMD, PhD, said.
• Three-injection, ultrasound guided immunotherapy for grass pollen well tolerated in teens.
"[Injections] were remarkably well-tolerated, and parents appreciated the convenience of only three injections to treat their children's allergies," according to Amber M. Patterson, MD. Extracts were administered into the right, inguinal (groin) lymph node by ultrasound during three visits, each at least four weeks apart. Treatment consisted of escalating doses of grass pollen extract or saline.
• Can early childhood allergies predict risks for asthma?
"General risk factors for a child developing asthma include a parental history of asthma, gender, viral induced wheezing, and eczema. Our study adds that specific patterns of allergic sensitization can be related to asthma in early childhood. In fact, few studies have examined year-to-year patterns between asthma and lifelong allergic sensitization," according to Jessica S. Tan, MD, MPH, and first author.
For more information on allergies, asthma or the Annual Meeting please visit the AAAAI website.
The AAAAI represents allergists, asthma specialists, clinical immunologists, allied health professionals and others with a special interest in the research and treatment of allergic and immunologic diseases. Established in 1943, the AAAAI has more than 6,800 members in the United States, Canada and 72 other countries. The AAAAI's Find an Allergist/Immunologist service is a trusted resource to help you find a specialist close to home.
###