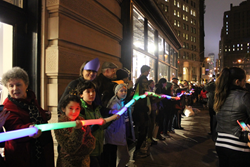 New York, NY (PRWEB) March 06, 2015
WHAT: To celebrate the Pi Day of the Century, the National Museum of Mathematics (MoMath) will gather hundreds of math enthusiasts in Madison Square Park to create a stunning illuminated demonstration of the meaning of Pi. Pi, a popular irrational number, is the ratio of a circle's circumference to its diameter equal to 3.141592653… (the digits go on forever without repeating). This Pi Day is particularly special, as it is the only time this century when the date will align perfectly with the first five digits in Pi.
By surrounding Madison Square Park's north fountain entirely with MoMath's signature glowing light sticks, held in place by hundreds of New Yorkers, the distance around the shimmering circle can be compared to the distance across it, showing the true meaning of pi. A smaller circle within the fountain, and a larger circle outside the first, will show the surprising and beautiful recurrence of pi.
At 9:25 p.m., participants will begin the Pi Countdown to exactly 9:26 p.m. (that's 3.14.15.9.26), followed by free hot chocolate and pie. Attendees are encouraged to bring or sport their favorite circle or illustration of pi.
Those too young for the evening event are invited to a morning Pi Day activities beginning at 9 a.m. in Madison Square Park. Children will learn the real meaning of pi and count down together at 9:26 a.m. At 9:30 a.m., the Museum will open 30 minutes early for the special occasion.
During regular Museum hours, visitors can participate in a number of exciting Pi Day activities, from a scavenger hunt through the exhibits to circular tic-tac-toe to Pi puzzles. Guests can make Pi personal by finding a unique number sequence in its infinite digits, and make Pi even more delicious by using candy to estimate its value.
Pi Day of the Century is the second in a series of MoMath MathHappenings, public events that celebrate New York landmarks through math and reveal the fun and beautiful aspects of the subject. View highlights from the first MathHappening, Pythagorize the Flatiron, which attracted nearly 2,000 people, here.
WHO: Glen Whitney, MoMath co-founder and co-executive
Cindy Lawrence, MoMath co-founder and co-executive
WHEN: Saturday, March 14, 2015
9 a.m. - Children's Pi Demonstration
9 p.m. – Illuminated demonstration of Pi
9:30 a.m. – 5 p.m. – Pi Day activities and games at MoMath
WHERE: Madison Square Park, North Fountain
26th Street in Manhattan (between 5th and Madison)
National Museum of Mathematics
11 E 26th Street in Manhattan
RSVP: Credentialed members of the media are invited to attend, and RSVP is mandatory. Please contact Brittnie Mabry (brittnie(at)philandcompany(dot)com, (o)646.490.6446, (c)256.339.8303) Amanda Bush (amanda(at)philandcompany(dot)com, (o)646.490.6446, (c)516.316.4573).
###
About the National Museum of Mathematics
The National Museum of Mathematics (MoMath) strives to enhance public understanding and perception of mathematics in daily life. The only math museum in North America, MoMath fulfills an incredible demand for hands-on math programming, creating a space where those who are math-challenged-as well as math enthusiasts of all backgrounds and levels of understanding- can revel in their own personal realm of the infinite world of mathematics through more than 30 state-of-the-art interactive exhibits. MoMath was awarded the bronze 2013 MUSE Award for Education and Outreach by the American Alliance of Museums. MoMath is located at 11 E. 26th on the north side of popular Madison Square Park in Manhattan. The Museum is open seven days a week from 10 a.m.-5 p.m. For more information, visit momath.org.