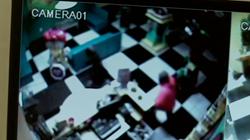 "I hope they feel sorry for what they did. I hope this is a lesson learned and I'm really glad they got caught," said Thomas at Snip Its.
Atlanta, GA (PRWEB) March 11, 2015
Oklahoma City Police arrested four suspects, 23 year old Giovani Arrezola and 19 year old Miguel Cuellar along with two juveniles after they allegedly robbed 10 businesses across the metro area, reported News Channel 4, KFOR.com on March 3rd, 2015.
News Channel 4, KFOR also reported that according to the Oklahoma City Police Department, the suspects gained entry by breaking out the front glass at all 10 locations. Stolen were small items such as gloves and beanies, along with cash and $8,000.00 worth of cell phones from Payless, GNC, Metro PC and Snip Its, a children's hair salon where surveillance cameras caught the suspects that provided police clues, which led to the arrest. Stephanie Thomas, Manager of Snip Its stated, "I hope they feel sorry for what they did. I hope this is a lesson learned and I'm really glad they got caught."
Surveillance cameras can play an important role in identifying suspects and providing video that is recorded and can be used in a court of law as evidence. The right surveillance camera in the right location can catch a thief without intervention or firing a single shot, says Kevin Miles, Tech Specialist at The Security Product Depot.
Security Product Depot announces the latest in surveillance technology with the release of the Outdoor Wireless IP Bullet Camera. With Infrared capability, an adjustable varifocal lens and wireless connection makes it an excellent choice when a crisp clear image in low or dark light is required.
The camera supports simultaneous H.264, Motion JPEG & MPEG4 video compression and dual streaming, which provides a smooth and high video quality. The video can be stored in an SD card and played back remotely. With a user friendly interface, it is an easy-to-use IP camera that provides a security solution for any commercial setting.
The Security Product Depot is an established online provider of physical security products and security information. They are committed to offering a broad array of the latest technology to help their clients protect their assets and property.