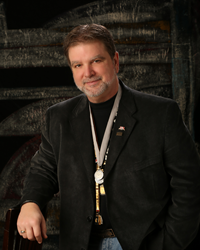 I would have never guessed when I first joined PPA in 1983 that years later I would be elected to this position.
ATLANTA, Ga. (PRWEB) March 09, 2015
Professional Photographers of America (PPA) announced Michigan photographer Michael Timmons, M.Photog.M.Artist.Cr., CPP, F-ASP as its new president. Timmons begins a year-long term that extends through the end of February 2016. Timmons expressed his excitement and appreciation for the appointment.
"I'm excited and humbled to represent the over 27,500 members that make up PPA," he said. "I would have never guessed when I first joined PPA in 1983 that years later I would be elected to this position.
"I'm even more humbled when I think of the others who have held this position in the past and molded PPA into the organization it is today—a thriving, growing, member-centered nonprofit. I will work tirelessly with PPA's outstanding volunteers and staff to offer members the best education, benefits, value and opportunity to "Be More" in the profession of photography."
Timmons owns and operates Gallery 143 and the Portrait Gallery in Vassar, Michigan. The Gallery clients include NASCAR team Hendrick Motor Sports, Drury Inns, and McDonalds Restaurants, in addition to banks, hotels, businesses, doctors' offices, and private collectors. The Portrait Gallery is an all-inclusive portrait studio photographing portraits, high school seniors, children, families, commercial and underclass.
A published poet, writer, artist, and photographer, Timmons has been involved in the arts for over 38 years. He has lectured around the world and at local, state and regional conventions and has presented programs several times at Imaging USA. He is also an approved PPA International Juror and a PPA Jury Chairman and is a passionate advocate for photographic competition.
Timmons holds master of photography, master artist and photographic craftsman degrees from PPA, in addition to being a Certified Professional Photographer. He has received PPA's Imaging Excellence award and was awarded the Fellowship degree from the American Society of Photographers. Timmons served the past year on PPA's board of directors as vice president.
"Michael has served on PPA's board of directors for several years and understands well the needs of professional photographers," said David Trust, PPA CEO. "He steps into the role at a time when PPA's membership is soaring to new heights and just after our largest-attended Imaging USA in history. With Michael's guidance, PPA will continue to offer professional photographers the very best benefits to see photographers grow as artists and business-people."
PPA's board of directors features some of the most respected names in the photographic industry. These accomplished photographers understand exactly what photographers face daily and know the programs, education, benefits and services needed to be successful.
For more information on PPA or to join, visit PPA.com
About PPA:
Professional Photographers of America (PPA) is the largest international nonprofit association created by professional photographers, for professional photographers. Almost as long-lived as photography itself, PPA's roots date back to 1869. It assists more than 27,500 members through protection, education and resources for their continued success. See how PPA helps photographers be more at PPA.com.