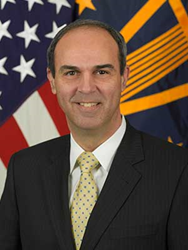 Tom's understanding of the high risks and costs of fossil fuel dependence, and how they affect industrial competitiveness and defense, are unparalleled
Fredericksburg, VA (PRWEB) March 10, 2015
Edward Thomas (Tom) Morehouse, Jr., formerly a Principal Deputy Assistant Secretary of Defense and Acting Assistant Secretary of Defense for Operational Energy Plans and Programs, and currently an advisor to the federal government on renewable energy, has rejoined the Marstel-Day Advisory Council at the invitation of the environmental consulting firm's President and CEO Rebecca R. Rubin. He previously served on the Marstel-Day Council before his departure to serve as Principal Deputy Assistant Secretary of Defense.
In announcing the return of Morehouse, Rubin cited the experience that Morehouse brings to the advisory group, saying "Tom's understanding of the high risks and costs of fossil fuel dependence, and how they affect industrial competitiveness and defense, are unparalleled and will enhance Marstel-Day's ability to serve clients in industry and government. He has been a leader on this issue for many years, including with his ground-breaking 2008 report for the Defense Science Board that led to the creation of the DOD's energy planning department. I welcome Tom back to our Advisory Council.
"Marstel-Day's work is world class," said Morehouse in accepting the appointment to rejoin the Marstel-Day Council. "That's why I agreed to return to their Council. I look forward to bringing the experience I gained in working within DoD the past few years to help Marstel-Day stay abreast of the most innovative and effective strategies industry and governments worldwide can use to reduce their energy risks and costs."
In his capacity as Principal Deputy Assistant Secretary of Defense and Acting Assistant Secretary of Defense for Operational Energy Plans and Programs from 2010 to 2014, Morehouse focused on reducing the Defense Department's strategic and operational risks and costs associated with energy.
Prior to Morehouse's DOD appointment, he worked to analyse energy issues at the Institute for Defense Analyses and as an independent consultant and co-author of energy and climate security-related studies for the federally-funded Center for Naval Analysis.
From 1989 through 2010, Morehouse served on the Technology and Economic Assessment Panel to the Montreal Protocol on Substances that Deplete the Ozone Layer.
Morehouse is also a former Air Force officer. He received his BS in electrical engineering from Union College and his MS in mechanical engineering from Boston University.
About Marstel-Day
Marstel-Day is an international natural resource and environmental services management consulting firm that provides innovative solutions to business, government, and nonprofit clients. Its multidisciplinary staff offers an array of capabilities, including climate and water risk analysis and mitigation, land use/encroachment management, sustainability management, and energy planning services. Marstel-Day's offices include the Washington, D.C. area, Virginia, California, Texas, Mississippi, Colorado and the United Kingdom. The company is a sustainable service provider certified under National Standards Foundation, International (NSFI) P391 international standards, and an official partner in the U.S. Environmental Protection Agency's Green Power Partnership program. Visit us at http://www.marstel-day.com. Find us on Twitter @MarstelDay.