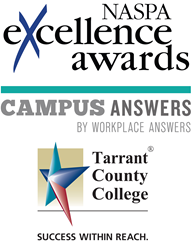 Joining forces with Campus Answers has allowed us to create a compliant, robust program that meets our particular needs for our campuses. More importantly, it holds the potential to make them safer places, by eliminating sexual violence.
Austin, Texas (PRWEB) March 09, 2015
NASPA's bronze Excellence Award was given for Student Empower™: Non-Residential a custom online training course developed collaboratively by Tarrant County College and Campus Answers. It is the most comprehensive, up-to-date sexual violence awareness and prevention program for students. The Student Empower™ curriculum strikes the right balance between driving cultural change and mitigating compliance risk. It covers important topics such as students' rights and responsibilities; preventing sexual violence, dating violence, stalking, harassment and bullying; navigating partying, drugs and alcohol; acting as allies for others in need; affirmative consent; and bystander intervention techniques.
When the federal Violence Against Women Act (VAWA) mandates were introduced and schools were called upon to act in the fight against sexual violence, TCC immediately responded. The College brought knowledge of its institution and student needs and collaborated with experts at Campus Answers to create an online training course that fit TCC and exceeded the legal requirements.
Dr. Richard Coronado, Ph.D., Associate Vice Chancellor for Human Resources at Tarrant County College, realized early the importance of securing a partner with expertise in the law with the ability to help develop an implementation plan was needed.
"As the Title IX Coordinator for Tarrant County College, it is my responsibility to promote awareness and enforcement of Title IX and the Violence Against Women Act on campus. In the past year, the legal updates, guidance, and Dear Colleague letters that we have received have been helpful, but it still had been challenging to stay abreast of the law and maintain the most up-to-date training program for our students," said Dr. Coronado. "This is where Student Empower™ has been a valuable resource. Joining forces with Campus Answers has allowed us to create a compliant, robust program that meets our particular needs for our campuses. More importantly, it holds the potential to make them safer places, by eliminating sexual violence."
Student Empower™: Non-Residential employs evidence-based instructional design to maximize student learning and influence real behavioral changes. From TCC's 50,000 credit students, two focus groups were tested. One focus group was self-reported. The second group was empirical, with a pre-test and post-test administered electronically. Both focus groups showed significant improvement in awareness of the issues, knowledge about how to respond and impact on behavior.
"We are passionate about making a difference through compelling, interactive training that really engages learners," said Sondra Solovay, J.D., Director of Product for Campus Answers. "Our story-based learning gives learners practice applying concepts and our innovative use of social media empowers them to discuss the issues in their own words. We had a great time collaborating on this project with the talented professionals at TCC because they really understand their students."
Because there are different legal requirements for different audiences, this multi-course training solution allowed TCC to tailor the message and training to each audience.
"As a non-residential school with a diverse population with returning students and others are straight from high school, we struggled to find an approach that spoke to our whole community," said Dr. Coronado. "With the help of Campus Answers, Student Empower™: Non-Residential is the training program that we have developed to meet these laws and change campus culture."
The NASPA Excellence award entries are evaluated by NASPA members and judges based on rigorous criteria, including: impact on student learning and success, relevance to institutional mission, success in addressing student needs or responding to critical campus concerns, and use of innovative and creative methods.
About Campus Answers
Campus Answers is the higher education division of Workplace Answers, the leading provider of compliance solutions. For more than 20 years, we have provided compliance solutions to over 500 colleges and universities nationwide, including UNC Chapel Hill, University of Alabama, Tarrant County College, Asbury Theological Seminary, and the University System of New Hampshire. A recipient of the NASPA Award for excellence in 2015, Campus Answers delivers compliance training tailored to the unique needs of research universities, community colleges and faith based institutions. Our course design is customized for the type of audience including students, faculty, staff, parents, and campus practitioners. Learn more about Campus Answers at http://www.CampusAnswers.com or call 1-866-861-4410.
About Tarrant County College
Serving more than 100,000 students each year, Tarrant County College is the nation's 15th -largest higher education institution. As a comprehensive two-year college, TCC offers a wide range of opportunities for learners of all ages and backgrounds, including traditional programs, such as Associate of Arts degrees, Community & Industry Education courses, workshops and customized training programs. The College has five campuses throughout Tarrant County, including the Trinity River Campus East Center for Health Care Professions. Additionally, TCC Connect provides flexibility with e-Learning, Dual Credit and Weekend College. TCC also assists employers in training their workforces with its TCC Opportunity Center. TCC is one of only 90 Achieving the Dream Leader Colleges in the nation, earning the distinction during its first year of eligibility. Visit http://www.tccd.edu/ for more information.
About NASPA Excellence Awards
Each year, NASPA recognizes the outstanding contributions of members who are transforming higher education through exceptional programs, innovative services, and effective administration. NASPA's Excellence Awards cover eleven categories crucial to the success of students and the continued growth of the student affairs profession. Winners are recognized at that year's NASPA Annual Conference. Read more about NASPA here.