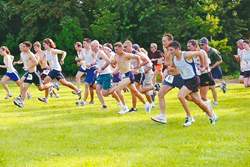 With specialty shops and racing clubs, the county is a great place for runners to stretch their legs and find a community of support.
(PRWEB) March 06, 2015
Franklin County is home to beautiful, rolling hills and wide open spaces, but this is nothing new to the avid runners that call the county home. With specialty shops and racing clubs, the county is a great place for runners to stretch their legs and find a community of support.
In spring 2015, there are a wide-range of charity, memorial and qualifying races that take place all over Franklin County, starting with the Chambersburg Half-Marathon this Saturday, March 7.
The 36th Annual Chambersburg Half-Marathon starts at 8:30 a.m. from Chambersburg Area Middle School South on East McKinley Street and includes cash prizes and awards for the top finishers.
This event is unique and features rolling country hills and a couple challenging hills. During its first year, the late Jean Stapleton (Edith on "All in the Family") was a spectator at the event and cheered on runners.
The event is sponsored by the Chambersburg Road Runners Club and is $25 for early bird registration and $65 for race day registration.
The men's record for the race is held by Steve Spence, who ran for the United States at the Olympic Games in Barcelona (1992), who holds a record of 1:08:12 that he ran in 2001. The female record of 1:21:01 was set by Molly Pritz in 2008.
For more information, visit http://www.chambersburghalf.org or http://www.chambersburgrrc.org. You can contact Elyse Fisler, registration director, at puzzlepiece7(at)yahoo(dot)com or by calling 717-512-7249.
Another way that runners can connect in Franklin County is joining one of the local running clubs. One of these clubs is the Chambersburg Road Runners Club. The goal of the club is to maintain an active running community in Chambersburg and surrounding areas by providing opportunities for runners to meet personal fitness goals by offering seminars, group training sessions, competitive events and fostering a climate of mutual support, goodwill and fellowship.
New for this year is the Cowans Gap 5K Run/Walk on March 29 starting at 2 p.m. The Friends of Cowans Gap, a newly formed non-profit organization dedicated to enhancing the park, will hold the event with all the proceeds going back to the park for educational programming, facility upgrades and preservation of the natural resources. Admission is $20 or $30 with a t-shirt. For more information, please contact the park office at 485-3948.
In the beginning of April, the Greencastle Flyers, a track and cross country club, will be hosting the Martins Mill Covered Bridge 5 Mile Challenge.
On April 4, starting at 8:30 a.m., runners are challenged to a historic 5-mile course, beginning at Antrim Township Park and including Martins Mill Covered Bridge. For more information, contact Rich Secrest at 717-360-7557 or by emailing greencastleflyers(at)gmail(dot)com.
This event is only weeks away from one of the Greencastle Flyers' biggest event, Flannery's Pub Run. This year, the 3rd event, the half marathon will be held April 18, starting at 8:30 a.m. The 13.1 mile run stretches through acres of farmland from Flannery's in Mercersburg to the John Allison Public House in Greencastle that culminates into a community festival featuring live music, food and more will take place following the race.
Proceeds benefit Mercersburg and Greencastle high school sports teams. For more information, visit http://www.flanneryspubrun.com.
The Pine Hill 5K Trail Run is Franklin County's newest race. Scheduled for May 30 at 9 a.m., the Pine Hill 5K challenges everyone to run off-street and take to the rolling hills of Pine Hill Recreation Area in Waynesboro. This unique course is run completely on trails. More than holding a successful race, the Pine Hill 5K wants to promote a regional culture of wellness and encourage everyone to take a step toward a healthier lifestyle. The cost for the race is $15 by May 16 for students and $20 for adults and $25 on race day. Proceeds benefit community organizations. For more information, visit http://www.PineHill5K.org.
The 5th Race Against Poverty will be held on June 5 in downtown Chambersburg as part of the First Friday event in June. Every dollar collected from the event will go toward fighting local poverty and is run by South Central Community Action Programs. Younger runners, age 11 and under, are invited to help support the cause by participating in the 1K for Kids. More information about this race will be released later in the year at http://www.raceagainstpoverty.org.
The Franklin County Visitors Bureau invites all to explore Franklin County PA and enjoy the history, arts, recreation, natural beauty, fresh foods and warm hospitality of communities like Chambersburg, Greencastle, Mercersburg, Shippensburg, and Waynesboro. Franklin County PA is located just north of the Mason Dixon Line and an easy drive to Washington DC, Philadelphia, and Pittsburgh. Discover more….plan your visit at ExploreFranklinCountyPA.com, by contacting 866.646.8060, 717.552.2977 or by paging through the online visitors guide.