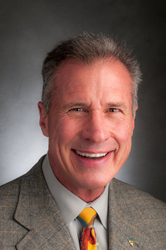 Miami, Florida (PRWEB) March 08, 2015
The MIAMI Association of REALTORS, the largest local Realtor association in the nation, has elected John Dohm, SIOR, CCIM, CFP, Infinity Commercial Real Estate, as its 2015 Chairman of the Board. He and the entire Board of Directors were recently installed at the sold-out Annual Inaugural & Awards Luncheon, which attracted 1,000 attendees, at Jungle Island. MIAMI represents over 36,000 residential, commercial, and international real estate professionals.
The MIAMI Corporate Board is dedicated to leadership in the industry, the real estate profession, and the communities they serve. MIAMI leaders impact key policy decisions and important issues affecting the industry, analyze information, and are actively and visibly involved in real estate related issues, events, and programming.
Mr. Dohm has been a licensed real estate broker for over 30 years. In addition to traditional brokerage, John specializes in public-private partnerships, complex land assemblage, and commercial redevelopment. He is one of only 875 people in the world to hold both the SIOR (Society of Industrial and Office Realtors) and CCIM (Certified Commercial Institute Member) designations - the two highest in commercial real estate - and the only one to have also been awarded the CFP (Certified Financial Planner) designation plus all major securities licenses.
He is past SIOR Regional Director for the USA South, past-president of the Florida Chapter, a member of the SIOR Foundation's Board, and Chairman of the global organization's Membership Standards Committee. Dohm is also past president of the CCIM Broward Chapter, is on the board of the Miami Chapter and served for several years on the board of the state CCIM organization. He founded the Commercial Industrial Real Estate Brokers Association and is a two-term past president. He was 2012 president of the Miami Association of Realtors RCA (Realtors Commercial Alliance), 2011 Commercial Realtor of the Year and 2012 Realtor of the Year, as well as being a 2013 NAR National Commercial Award Recipient (and 2013 Commercial Committee Chairman of Florida Realtors).
Mr. Dohm has been engaged as real estate advisor to AECOM and is part of the AECOM
(http://www.AECOM.com) consulting team selected by Broward County to advise Port Everglades on the relocation of the port's foreign trade zone (FTZ-25). He also regularly attends meetings and participates on numerous boards and committees in Miami-Dade and Broward counties to advise county and municipal agencies on freight transportation, perishables cargo, infrastructure and real estate issues. He volunteers his time and expertise to accompany PortMiami and Port Everglades on trade missions and speaks regularly to real estate and civic groups about Miami's emerging global position.
Having been a South Florida resident since the early 1950s, John grew up in Miami and graduated from the University of Miami. Prior to his 30-year career in real estate, John was a symphony musician, playing double bass with the philharmonic, opera, ballet and numerous chamber groups and churches. He subsequently was a securities and commodities specialist at LaSalle Street Securities and the Chicago Board of Trade.
Mark Sadek, The Keyes Company, Inc., serves as Chairman-Elect; Nancy Hogan, Avatar Real Estate Services, serves as Secretary; and Fernando I. Martinez, FM Realty Corp., serves as Treasurer.
Also serving on the Executive Committee are 2015 Commercial President Barbara Tria, Kerdyk Real Estate.; 2015 Residential President Christopher Zoller, CRS, EWM Realty International; 2015 Broward County President Christopher Tello, SFR, Keller Williams Realty Partners SW; 2015 Commercial President-Elect Maria G. Juncadella, CCIM, Fairchild Partners, Inc.; 2015 Residential President-Elect Carlos Gutierrez, P.A., Gutierrez Group Miami Real Estate, Keller Williams Miami Beach; 2015 Broward County President-Elect Donna Reid, AHWD, Coldwell Banker Residential Real Estate; and 2014 Chairman of the Board Liza Mendez, CDPE, CIPS, CRB, CRS, e-Pro, TRC, Pedro Realty International.
Also serving as directors are Francisco Angulo, CPS, CRB, CRS, TRC, GRI; David L. Carlisle, Keller Williams Realty; Alicia Cervera Lamadrid, Cervera Real Estate; Donna A. Lancaster, CRB, TRC, Berkshire Hathaway HomeServices Florida Realty; Christina Pappas, The Keyes Company, Inc.; Sherrie Porter, EWM Realty International; Michelle Rojas, CRS, PMN, GRI, e-Pro, SFR, TRC, CDPE, RSPS; Duff Rubin, Coldwell Banker Residential Real Estate; and Moe Veissi, Veissi & Associates, Inc..
Teresa King Kinney, CAE, CIPS, GRI, RCE, TRC serves as the CEO for the organization.
About the MIAMI Association of REALTORS
The MIAMI Association of REALTORS was chartered by the National Association of Realtors in 1920 and is celebrating 95 years of service to Realtors, the buying and selling public, and the communities in South Florida. Comprised of five organizations, the Residential Association, the Realtors Commercial Alliance, the Broward County Board of Governors, the YPN Council and the award-winning International Council, it represents more than 36,000 real estate professionals in all aspects of real estate sales, marketing, and brokerage. It is the largest local Realtor association in the U.S., and has official partnerships with more than 125 international organizations worldwide. MIAMI's official website is http://www.miamire.com.
###