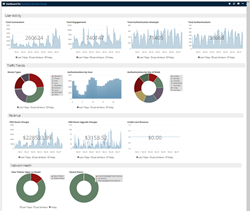 We have identified and executed on improvements the market needs to be more efficient.
Bedford, NH (PRWEB) March 09, 2015
Single Digits, Inc. announces that their Business Access Portal (BAP) 4.0 software update is set for full release on March 31, 2015. The company celebrated its 12th year in business March 1st and marked the occasion with several new features to its proprietary software. The enhancements are expected to exceed the demands of its core market in hospitality, and are likely to prove attractive to new sectors such as public Wi-Fi, transportation, malls, and office buildings. The most critical updates include a turbo-charged reporting engine and connection automation for network users who need instant reconnection when roaming through a building or returning to a site.
"The improvements we've made to the software in the last year are a real testament to our software developers and market researchers, ensuring we have identified and executed on improvements the market needs to be more efficient," explained Steve Singlar, president and co-founder of Single Digits. "After this long in the Wi-Fi market, we can identify trends even before network owners know they need a new feature. Combining that industry knowledge with inputs from existing customers, I think the software is more powerful than ever."
New features include an updated user interface, responsive web design, automated connectivity and a new reporting engine, as well as tools like the Event, Portal and Employee Device Managers. The BAP is now laser-focused on delivering what network owners need: user-friendly, intuitive software that doesn't require technical staff to deploy complex projects. At the same time BAP keeps pertinent data at the owner's fingertips with a new default dashboard available upon logging in.
"On top of the software's improved functionality, we've also enriched our channel partnership with Nomadix. This gives customers a choice in performance to best meet the challenges of their environment, while still using the advance feature set of the BAP," Singlar continued. "Our company has always sought industry partnerships that unlocked options and flexibility for the most reliable, innovative networks."
Seven Key Upgrades and Tools Define the New Business Access Portal

User Interface: A new, modern interface allows for easier navigation and menu selection than ever before. The streamlined look gives the network owner or administrator a more intuitive experience, resulting in more efficient data gathering and an improved understanding of the health of their network.
Default Dashboard: After significant research and data collection, Single Digits has defined 12 key metrics of interest to a network owner. These metrics are the new default view after logging into the system and can be customized to a property's needs. Further, the data can reflect a single property or a portfolio of individual networks, providing a fast and accurate snapshot of the network's overall health, thus improving its efficiency for the network owner.
Responsive Design: Network owners are just as mobile as their users; therefore the new portal allows you to get whatever network details you need from your PC, tablet or mobile phone with ease and clarity. All data, including the default dashboard, will resize to fit your device for an easy snapshot of your network's health whether you are on site or managing many properties remotely. You will no longer need to try to resize your most useful reports on your hand-held device; instead the new Business Access Portal does all the reformatting for you.
Connection Automation: In order to limit network-user frustration and reduce friction while connecting, the Business Access Portal now uses an automated system that catalogs the MAC addresses of any Wi-Fi connected device and allows seamless transfer between access points, as well as reconnection to the network if the user leaves and then returns. In addition to this streamlined upgrade, users will no longer need to open a web browser for a connection because so many rely on mobile apps for their Wi-Fi needs, thus improving the user experience.
Reporting Engine: Substantial improvements and innovations have been added to the heart of the reporting engine, resulting in faster, more customizable, graphic reports. Twenty-five critical reports are pre-loaded into the software and have been designed to deliver useful information about the site's network health, bandwidth consumption, location usage, end user consumption, user activity and even network tickets.
Event & Portal Manager: This combination of tools allows non-technical, venue staff members to create events in an easy, quick, organized way to best satisfy the needs of an event or conference. In four easy steps, Event Manager allows venue staff to enter event details, network configurations, session controls and then review all entered data in summary form.Combined with the Portal Manager, control is now moved to local staff, who can define the user experience and avoid antiquated manual configuration changes in the network's components. Network owners and their local marketing teams can use this new self-service, drag-and-drop portal creation system to create site-specific portal experiences for authenticators on their networks. Organizers can take full control of the user experience on their own terms through a simple, WYSIWYG portal-creation process.
Employee Device Manager: Privileged connectivity to your associate devices should be ubiquitous and seamless across your entire property network. It's no longer acceptable to be locked to specific physical locations for access to company resources and internal systems. Your customers demand mobility from your staff and your bottom line demands their efficiency. The Employee Device Manager was designed to fix that problem. Our software module integrates with any defined level authentication system for a quick, painless and (most importantly) secure path to connectivity. The network owner can define employee devices, control their level of access to the BAP, and monitor the devices' activity and behavior.
About Single Digits
Single Digits enables property owners to monetize their Wi-Fi networks with our managed services and Business Access Portal software. We cater to industries such as hospitality, malls, transportation, small box retail, mixed use and class A office space. Single Digits supports over 2,500 locations and authenticates over 160,000 users at those properties daily. Additionally, we are a leading global provider of High Speed Internet Access (HSIA) management and support solutions, guest management software and technical support services. We offer a complete guest HSIA solution, including components of IP network design, engineering, professional services, ongoing maintenance, network monitoring, multi-lingual support, revenue reporting and authentication tracking. Our sound business fundamentals – on which the company was created – have led to exceptional growth, profitability and recognition by Inc. Magazine as one of the 500 fastest-growing companies in the United States for multiple years. Our industry-leading solutions have been recognized as best-in-class by several awards, including, the New Hampshire High Technology Council's 2013 Product of the Year and the 2014 Silver Stevie for Telecommunications Customer Service Department of the Year.