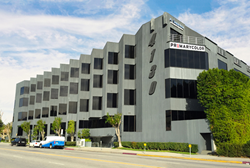 Our second expansion was executed in the worlds' entertainment capital, Hollywood
Southern Calif. (PRWEB) March 16, 2015
Primary Color, a full service visual solutions company based in Southern California and serving businesses globally, has spread their 30 years of experience and quality into two new locations. Primary Color Shanghai, China to deliver international production capabilities and Primary Color Hollywood is setup to provide additional creative services to their entertainment and media clients.
"Our mission is to better serve the growing needs of the American and European high-end retail brands in the China Marketplace," mentioned Dan Hirt, President of Primary Color. "We can now effectively communicate our customers brand message in front of the fastest growing middle class in the world."
The modern 30,000 square foot print facility, in Shanghai, houses print and finishing equipment to execute the most demanding large-scale print projects and customers can expect the same high quality products that Primary Color is known for in the US. Primary Color collaborates with their employees overseas on a daily basis and the Shanghai operation is 100% tied into the workflow systems and quality control processes that are in place in the US.
Brands can rely on Primary Color for management and execution of their marketing products on a global scale. This allows international corporations to keep better control of their brand and decrease the production cycle time by eliminating redundancy and communication problems.
"Our second expansion was executed in the worlds' entertainment capital, Hollywood. The recent award of new entertainment print services contracts, allowed us the opportunity to expand our retouching, finishing and pre-media services in close proximity to the entertainment and media community. Our facility is setup to provide creative finishing work for key art as well as a color managed environment to view artwork, proofs and printed products" said Ron Hirt, VP of Sales and Marketing at Primary Color.
About Primary Color:
Primary Color is an award-winning visual solutions company that produces world-class marketing products and solutions. Established in 1984, Primary has positioned themselves as an industry leader through their dedication to print innovation, quality and service.
By focusing on technology, Primary analyzes traditional workflows, recommends improvements and develops and implements modern, systems-driven, print solutions. Primary provides turnkey services across all pre-media, print and web-based technologies to simplify marketing execution.
Primary has been certified as a G7 Master Printer and is a FSC and 3M certified company. They operate five state-of-the-art facilities in 210,000 square feet.