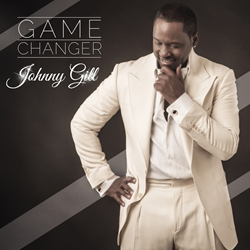 "The great Johnny Gill has set the standard for R&B artists since the beginning of his career with his unforgettable voice," said Nancy Herrington, Director of Marketing
Charenton, LA (PRWEB) March 09, 2015
Johnny Gill is back performing as a solo artist with his 2015 Game Changer Tour and will light up the Pavilion at Cypress Bayou Casino Hotel on April 25.
"Like a fine wine, it gets better with time," describes Gill's ever-evolving career as an R&B artist. Originally from Washington D.C., Gill started out singing alongside his brothers in the gospel group, "Wings of Faith," and later went on to create his first solo album in 1983. His success as a solo artist landed him a spot in the popular R&B group New Edition in 1987. Together the group created hits like "Can You Stand the Rain," "If It Isn't Love," and "Boys to Men." In 1990, Johnny Gill's solo career exploded with R&B favorites like "My, My, My" and "Rub You the Right Way." Later, Gill moved on to form another successful R&B super group called L.S.G. Gill, along with his group members Gerald Levert and Keith Sweat topped the charts with their hit single "My Body", the album quickly went platinum.
"The great Johnny Gill has set the standard for R&B artists since the beginning of his career with his unforgettable voice. He has released many R&B favorites and his latest tour, Game Changer, is sure to sway the crowd," said Nancy Herrington, Director of Marketing at Cypress Bayou Casino Hotel.
Gill is considered by many to be the number one R&B crooner alive. His 2015 Game Changer Tour consists of Gill's well-known classics and his latest songs like "Behind Closed Doors" and "Game Changer."
Showtime on April 25 is at 8p.m. and doors open at 7p.m. Tickets start at $25 and can be purchased at Bizzute Gifts at Cypress Bayou Casino Hotel or at ticketmaster.com.
About Cypress Bayou Casino Hotel
Play, stay and dine at South Louisiana's premier entertainment destination, Cypress Bayou Casino Hotel. Boasting 1,100 of the hottest, newest and most in-demand slot games available with denominations ranging from 1¢ to $100, including in-house and wide-area progressives, the Cypress Bayou Casino Hotel slot floor is a thrilling sight to behold. Try your hand on more than 30 tables including Blackjack, Mini-Baccarat, Mississippi Stud, and 3-Card Poker, just to name few.
Enjoy dining in one of the five unique venues. Enjoy oysters on the half-shell or at Bocat's Oyster Bar, or indulge in sushi and sashimi at the new Tsunami restaurant opening in Spring 2015. After filling up on the fine food of your choice, dance the night away in the high-energy nightclub, Rox, all located within Cypress Bayou Casino Hotel. Stay in our new state-of-the-art, 102-room hotel, offering guests deluxe accommodations.
Cypress Bayou Casino Hotel is located in Charenton, Louisiana off of US Highway 90 at the Baldwin exit. Phone 1-800-284-4386 for more information, visit the website at http://www.cypressbayou.com, or "like" us on Facebook @CypressBayouCasinoHotel.