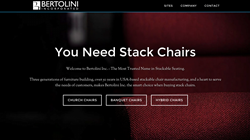 At Bertolini we have been serving the church market with factory-direct church seating for over 50 years. We love how easy the updated www.BeroliniDirect.com makes finding the right factory-direct church chair for our customers
Chino, CA (PRWEB) April 02, 2015
Bertolini Incorporated stands behind every chair with a commitment of 100% customer satisfaction. To enhance their commitment of 100% customer satisfaction, Bertolini Incorporated announced today the launch of its new website at http://www.bertolinidirect.com. The new website features easy to navigate content in a new format designed to provide customers with the most comprehensive and current information about their world-class quality stackable seating.
Bertolini Incorporated is excited to launch their new website with many end user improvements. Aside from the refreshing and modernized display, colors and visuals, it also offers right at your fingertips information and direction. The improvements help the end user by guiding them to the detailed information that they are seeking regarding the type of chairs they are looking for. The new website is simple yet full of information. On the top page it presents three types of stack chairs to assist the customer's needs. The options are Church Chairs, Banquet Chairs and Hybrid Chairs. Once an option is selected it will take them directly to the proper division that provides in depth product information, specifications, fabric samples, downloads and a gallery.
"At Bertolini we have been serving the church market with factory-direct church seating for over 50 years. We love how easy the updated http://www.BertoliniDirect.com makes finding the right factory-direct church chair for our customers", says Jim Bertolini, CEO, Bertolini Incorporated.
Bertolini Incorporated is the most trusted name in church chairs and seating. Three generations of furniture building, over 50 years in USA based stackable chair manufacturing, and a heart to serve the needs of the local church. They are the design leaders in the use of ergonomically correct chair design and its Flex fit seat design technology. Their chairs are light and strong. Their expertise in the manufacture of quality stackable seating and commitment to superior customer service wins the appreciation of congregations worldwide. To find out more, visit http://www.bertolinidirect.com/