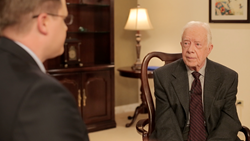 While editing this demo reel, I'm reminded the scope clients we are privileged to interact with
Chicago, IL (PRWEB) March 09, 2015
Absolute Vision Productions, a Chicago area media and production company, announced today the release of their new video sample interview reel. The video, available via http://www.AbsoluteVisionProductions.com, or viewed on their YouTube Page, is a diverse showcase of Absolute's best interview style videos across a number of industries and corporations, including education, manufacturing, hospitality, food and beverage, and beyond.
This release will be the first of several new demo videos, showcasing Absolute's work in interview, manufacturing, animation, and live event settings, in addition to the Interview Reel reel being debuted today. The series will also be available via Absolute Vision's Youtube channel.
"While editing this demo reel, I'm reminded the scope clients we are privileged to interact with!" said Brandan Gajic, Production Lead for Absolute Vision.
Absolute Vision remains the preferred media partner for dozens of regional and national companies. Whether creating top-tier content for companies in the manufacturing, industrial, hospitality, entertainment, and service sectors, or drawing from a portfolio of work spanning dozens of industries and mediums, including animation, HD web content, product photography, and remote location production, Absolute is a trusted partner to Chicago's business community. For more information or to speak to a member of the Absolute team, email info(at)AbsoluteVisionProductions(dot)com.
About Absolute Vision Productions:
Absolute Vision Productions is a Chicago-based media and production company, and part of the Absolute Vision Media Inc. creative group. Whether for agency-style media, professional video production, local production crew, or general marketing and advertising, Absolute offers national-level experience with local connections and know-how for corporate, educational, commercial, and creative purposes. To learn more, visit http://www.AbsoluteVisionProductions.com.