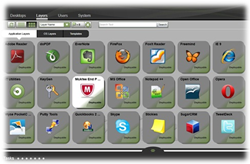 Unidesk's innovative layering technology for Microsoft VDI takes the delivery and the management of virtualized Windows desktops and applications to a new level.
MARLBOROUGH, Mass. (PRWEB) March 10, 2015
Unidesk, a leading provider of desktop and application management software for the cloud, today announced the availability of Unidesk® 3.0, which extends the Windows Server and Hyper-V platform to provide more efficient, scalable management of the Microsoft VDI experience. Enterprises looking to host desktops and applications in their private clouds using Hyper-V and Virtual Desktop Infrastructure (VDI) can now simplify application deployment, eliminate image sprawl, offer persistent personalization and achieve scalable management of VDI users, desktops, and collections.
VDI Challenges and Hyper-V Growth Drive Demand for Layering Innovation
Unidesk 3.0 is arriving at just the right time. Complexity and application delivery challenges are two of the top issues that have limited VDI deployments. Organizations looking to host desktops on the Microsoft virtualization platform now have a solution that overcomes both challenges.
"According to the latest IDC research, Hyper-V units were on track to capture one third of the x86 hypervisor deployments in 2014," said Robert Young, Research Manager, Cloud & Virtualization System Software, IDC. "Solutions like Unidesk that make it easier to virtualize desktop workloads on Hyper-V could accelerate that growth. For companies looking to overcome the cost and complexity challenges that have hindered VDI adoption to date, Unidesk for Hyper-V is a solution that should be explored."
Unidesk for Hyper-V Features and Benefits
As the pioneer in layering technology, Unidesk enables Windows operating systems, applications and personalization to be delivered and managed from a central installation point as modular virtual disks. This singular ability to virtualize every component of the desktop above the hypervisor -- market-proven with more than 1,000 customers -- bolsters Microsoft VDI with powerful new capabilities:

"Unidesk's innovative layering technology for Microsoft VDI takes the delivery and the management of virtualized Windows desktops and applications to a new level," said Andrew Conway, Senior Director, Microsoft Enterprise Mobility. "We are excited to welcome Unidesk to our partner ecosystem as they bring great new capabilities to businesses of all sizes that are deploying remote desktops and apps."
Support for Unidesk 3.0
"We are a long-time customer of Unidesk, with all of our personalized virtual desktops created from one Windows layer and 60 application layers," said Chris Mertens, Director of Information Technology, Hamilton County Government, Indiana. "We're planning to move to Hyper-V this year to make optimal use of the value and flexibility of the Microsoft virtualization platform. Given the desktop and application management efficiencies we've seen from layering, knowing Unidesk is available for Microsoft VDI made the decision to move to Hyper-V a lot easier."
Read the Microsoft blog on Unidesk 3.0.
Read what Unidesk Solution Partners have to say about Unidesk 3.0
Read what Unidesk Technology Partners have to say about Unidesk 3.0.
Availability
Unidesk 3.0 is available now through Unidesk Solution Partners. Trial versions of the software can be found at unidesk.com
"This release marks a major milestone for our company as we significantly expand our market reach with the help of Microsoft," said Don Bulens, Unidesk CEO. "We've also taken another significant step in establishing our technology as an open management solution for managing desktops and applications in private, public, and hybrid clouds. The work we have done to support Hyper-V will pave the way for more exciting announcements in the coming months."
About Unidesk Corporation
Unidesk enables customers to simplify and scale the management of Windows desktops and applications in the cloud. With Unidesk layering innovation, IT organizations can deliver applications and patch Windows with ease, while offering the personalization and support that delights end users. Unidesk's open solution supports Microsoft Hyper-V and VMware vSphere and integrates with leading desktop connectivity platforms including Citrix XenDesktop, Microsoft VDI and VMware Horizon. Unidesk is a privately held company headquartered in Marlborough, Mass., with authorized solution partners around the world. For more information, visit unidesk.com.