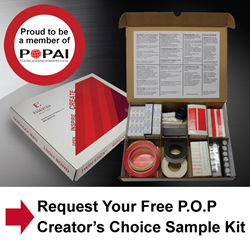 Forest Park, IL (PRWEB) March 09, 2015
Essentra Specialty Tapes is a member of Point of Purchase Advertising International (POPAI), and will present its tape products for Point of Purchase displays, other retail merchandising displays, signage, packaging and printing industries at GlobalShop 2015. This show focuses on design and shopper marketing trends, products and tools for the retail marketer, planner and designer.
Specialty tape product families that will be showcased at GlobalShop include: Foam Tape, High Bond Tape, Hook and Loop Fasteners, Duraco Red Tape, Magnetic Tape, Bumpers and more. Essentra will also introduce and feature its new Alcohol Wipes at the show. Essentra's Alcohol Wipes will clean and degrease a surface, ensuring a greater bond to the surface when tape is applied. The pre-wetted Essentra Alcohol Wipes, made from polyester cellulose, are available in plastic canisters, resealable pouches and single-use packets. These wipes are the perfect accompaniment to any specialty tape. Sample products (Alcohol Wipes and specialty tapes) will be available at the show.
Essentra Specialty Tapes is also making a special offer to editors from industry publications, in conjunction with the GlobalShop conference. A free "Creator's Choice Sample Kit" will be provided to any editor who registers at http://www.essentraspecialtytapes.com/GoCreate. This design kit is generally provided to display designers and creators to assist them in planning the look and function of their display, signage, packaging or other printed merchandising project. Now available to editors, this Sample Kit will provide useful insight into the needs of the display designer/creator and the many specialty tape solutions that Essentra provides.
Essentra Specialty Tapes will be exhibiting at Booth #4660 at GlobalShop. Editors are welcome to stop by and obtain free tape and Alcohol Wipe samples. In addition, Essentra will arrange a personal meeting with any editor at GlobalShop to discuss and view Essentra's specialty tape lines. To schedule an interview during the show, please contact Xin Yuan at at XinYuan(at)essentra(dot)com
For more information about Essentra Specialty Tapes and free samples of tape products, please visit: http://www.essentraspecialtytapes.com. Sample requests can be made on the detailed product ordering pages.
About Essentra Specialty Tapes, Inc.
Essentra Specialty Tapes offers a wide selection of uniquely functional tapes required by market segments such as Point of Purchase Displays, to effectively merchandise store products in retail establishments; in appliances, to make them water-tight and quiet; in buildings, to reinforce structural or design elements; in schools and museums, to provide permanent and temporary fastening solutions for changing needs; for sealing envelopes, securing package contents prior to shipping, and for many more customer requirements.
Products include foam tapes, transfer tapes, hook and loop fasteners, film and laminating tapes, high bond tapes, weather stripping, bumpers and magnetic tapes, among others. All products are available in stock, and the company accommodates custom orders as well. The company has almost 70 years of design and manufacturing expertise that ensures dependable product performance and unmatched service. The company's express distribution locations are positioned to provide customers fast, local and convenience service.
About Essentra PLC
Essentra is a leading international supplier of specialty plastic, fiber, foam and packaging products with four principal operating divisions: Component & Protection Solutions, Porous Technologies, Packaging & Securing Solutions and Filter Products. The company continuously produces and distributes millions of small, but essential, components to a variety of industries. Its products are often unnoticeable or even unrecognizable, but are found everywhere.
The company's international network extends to 33 countries and includes 42 principal manufacturing facilities, 64 sales and distribution operations and five research & development centers.
Shares in the new company are now traded on the main market of the London Stock Exchange under the Tradable Instrument Display Mnemonic of ESNT.L. Essentra's ISIN and SEDOL numbers, being GB00B0744359 and B074435 GB respectively, are unchanged.