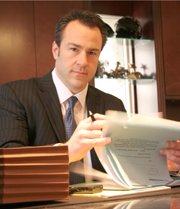 Obviously, we can't stop the time change...but we can be aware of the dangers it can cause.
Lansing, MI (PRWEB) March 07, 2015
Did you know that car crashes spike on the Monday after Daylight Saving Time (DST)? According to a study by the University of British Columbia (UBC), car accidents can increase as much as 17% during the first commute after DST starts in the spring.
Auto Accident Attorney Jason Waechter, who has built his reputation as a top car accident injury attorney over the last 20 years, thinks drivers need to be aware of the potential danger. "The fact is, everybody is on the road with one hour less sleep that day," he says. "On top of that, it's darker; sunrise is a full hour later than we are used to. We know drowsy driving is dangerous, and the UBC study seems to show that lack of sleep can be dangerous to drivers."
Most of us will set our clocks forward when we go to bed on Saturday night, but the official time change occurs at 2 a.m. on Sunday morning. While sunrise on Saturday, March 7, is predicted to occur around 6:58 a.m., sunrise on Monday, March 9, won't happen until 7:56 a.m.
"Obviously, we can't stop the time change," says Waechter. "My hope is that drivers will be aware of the potential for drowsy driving - and drowsy drivers - and be extra careful on their morning commute on Monday."
Waechter also recommends that any driver who has been injured in a car accident to contact an experienced lawyer right away. "If you are injured in a car crash, or someone you care about was hurt or killed by a negligent driver, you need to get an expert on your case as soon as possible," Waechter advises. "Whether the car accident injury was caused by a drowsy driver on the Monday after Daylight Saving Time, or something else was the cause, the sooner you get an expert legal team to investigate the circumstances, the better. "
#####
Jason Waechter has spent two decades cementing his reputation for results. Over the years, he has specialized his practice to auto, truck, and motorcycle accidents. Jason has fought tirelessly for car accident injury victims and contributed significantly to safety education and accident prevention. He has entrenched himself as one of the nation's premier lawyers, being named to the Michigan Super Lawyers and Michigan's Best Lawyers. If you or a loved one has been injured in an accident, call 1-800-708-5433 to speak with a lawyer who can help. Follow Waechter on Facebook for the latest blogs, events, and other road safety information.