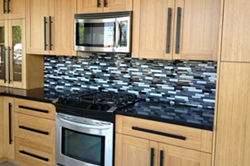 ECO Friendly Natural Bamboo RTA Kitchen Cabinets
Newport Beach, CA (PRWEB) March 13, 2015
Finance experts have stated it is more affordable to expand and update a home rather than move to a new property. Real Estate Agents, on the other hand, tell their clients to update their homes to guarantee a quick sale and add value to the property. One company who can help property owners update their homes and add value to it without breaking the bank is CabinetDIY.
CabinetDIY is an experienced team of professional interior designers and cabinetmakers, whose goal is to offer the right design decision to any interior project. The company offers kitchen cabinets, RTA cabinets; ready to assemble cabinets, mosaic, tiles, kitchen remodel, bathroom cabinets, and much more in any color, or style.
As an efficient kitchen and Bath designer, all of the products offered by CabinetDIY are carefully researched, designed, tested, selected and assembled to meet all the customers' needs. Every client can find a product that suits his or her taste. The company's design team continues to discover new styles and colors to give a wider range of options for customers to choose from.
Customers can take advantage of up to 4 free samples offered at CabinetDIY including real small wood samples so they can gain more confidence in their choice and purchase.
Through the products from CabinetDIY, any interior project is simplified. Instead of having to hire a professional handyman to help update or improve a home, with the products available, homeowners can update their properties with little experience.
To learn more about the products and services offered by CabinetDIY, please visit http://www.cabinetdiy.com.
About CabinetDIY
CabinetDIY is established in 2004 to provide professional interior design services and products throughout North America and beyond. The company's team takes each customer's need, complaint or suggestion seriously, constantly improving their services and products to meet the demands for quality, uniqueness and diversity of the today's generation.