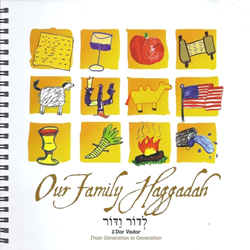 Both Shira, Detective, and Our Family Haggadah are beautiful books that will enhance family Passover celebrations. We're proud to be able to offer them at Oy Toys.
Roswell, GA (PRWEB) March 08, 2015
Oy Toys, promoter of local Atlanta authors, is celebrating the release of two new books for Passover with a double book signing event March 15th. Both Galia Sabbag, author of the Shira Series, and Spring Asher and the Asher children-illustrators of Our Family Haggadah will be signing their books at the Roswell store. Sabbag is a teacher at the Alfred and Adele Davis Academy in Sandy Springs; Asher is an Emmy Award-winning television producer and author of the Lip Smackin' Joke-Crackin' Cookbook for Kids. Shira Detective is the fifth book in the Shira series, while Our Family Haggadah is the first book by the Asher family.
Oy Toys is a leading Jewish toy company that sells products on line and at its Roswell store. The company was established in 2004 and specializes in Jewish toys and gifts. Its web site is http://www.oytoys.com Parent company, ATSR Enterprises, originally known as And Thou Shalt Read, specializes in books, toys, and other materials for the Jewish classroom. Its web site is http://www.AndThouShaltRead.com.
In realizing its mission of promoting Jewish authors and books, Oy Toys carries the Shira series books that not only expose children to delightful stories about Jewish holidays, and can also be used in the classroom. Our Family Haggadah is not only functional, but it is beautiful in picture and in spirit. It can also be inspiring to other families to create their own haggadot or family prayer books.
Asher said, " Every year, the children would create pictures for the seder and we added them to our family haggadah. They became part of our tradition. Last year, I thought, 'I'd like to share our haggadah with others,' and this is the result."
Sabbag told us, "I wrote Shira, Detective - Chametz Detective when after telling the students about the custom of cleaning out the chametz, one of my students went home and became the chametz detective with her parents. I hope that all my Shira stories will help families celebrate Judaism together."
Oy Toys owner Ruth E Levy said, "Both of these books are beautiful and will enhance the spirit of the family Passover celebration. We're proud to be able to offer them at Oy Toys and And Thou Shalt Read."
Ms Sabbag and Ms Asher, along with the Asher children-illustrators, will be on hand at the Oy Toys store in Roswell on March 15th, 2015, from1:00 PM – 4:00 PM to sign their books. A life-sized model of Shira will also be on hand for "photo ops" and children will be able to make seder placecard art.
All of the Shira Series and Our Family Haggadah are available online at http://www.OyToys.com and http://www.AndThouShaltRead.com