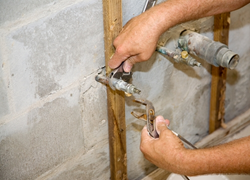 ortgage applicants that home equity lines of credit are a great, cost effective way of financing home improvements
Chicago, IL (PRWEB) March 07, 2015
Whether homeowners were recently first-time home buyers or lived in their houses for decades, home improvement projects are often difficult to complete. Homeowners tend to include home repair or remodel projects in their New Year's resolutions and may not finish them. To help make sure they see their projects through to the end, homeowners can follow these tips compiled by The Federal Savings Bank:
Think ahead for repairs
Although homeowners already have an idea of what they want to accomplish before the year is up, they should make sure they plan in advance for all repairs or updates. Since time is money, it might cost homeowners if they do not have a concrete plan to change things after remodeling or repairs have already begun. Homeowners should prepare a timeline and list for materials for any major home improvement job.
Arrange projects by type
One of the best ways to tackle projects is by putting them into two categories: aesthetic improvements and home improvements. While aesthetic improvements like painting a room or rearranging furniture are easier, home improvements might be more pressing. The Federal Savings Bank reminds its mortgage applicants that home equity lines of credit are a great, cost effective way of financing home improvements.
Contact The Federal Savings Bank, a veteran owned bank, to learn more about loans to improve homes.