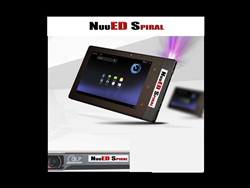 Jane Lin, Vice President of Akyumen, said, "We believe that the NuuED platform will enhance the Akyumen value in the education market and lead the way for the main stream adoption of these unique and innovative technologies."
Barcelona and Madrid, Spain (PRWEB) March 10, 2015
NuuED, the company that enables the understanding of knowing with simple and powerful tools for learning, has engaged Akyumen Technologies Corp to provide uniquely configured smartphones and smart tablets for users of the NuuED services in the education market. This unique combination of technologies and services will provide a highly differentiated and innovative opportunity for learners, educators and guardians that will catapult both companies to the forefront in education services and technologies. Both companies anticipate that this unique technological and service combination will allow market growth estimated in the millions of users.
Derrick O'Neal, co-founder of NuuED, said "Including the Akyumen products in our market offering will increase our service reach and market appeal."
NuuED provides highly innovative services based on simple to use and powerful technologies that enable the users to more easily attain an understanding of the knowledge needed in the various subjects.
Akyumen provides advanced mobile technologies that incorporate sophisticated embedded projection capabilities, optimization of resources and market leading capacity and processing. This coupled with a growing ecology of services and content is creating significant market growth in Asia, EMEA, the Americas and MENA.
Jane Lin, Vice President of Akyumen, said, "We believe that the NuuED platform will enhance the Akyumen value in the education market and lead the way for the main stream adoption of these unique and innovative technologies."
NuuED - The full service educational platform and services that empowers learners, guardians, and educators in new and exciting ways.
Akyumen - Akyumen product line will change the way we educate, do business and entertain. We are changing the game by enabling our customers to experience much more than mobile devices currently offer. The world's first advanced mobile technology devices with an integrated heat-controlled, multi-media projector.
If you would like more information about this topic, please contact Joseph Coleman at 510-331-9971 or email at info(at)nuueducation(dot)com.
[http://www.nuued.com NuuED]