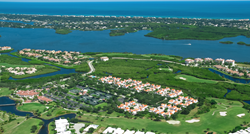 2015 Bliss Award Winner - Best Florida Community of the Year
Vero Beach, Florida (PRWEB) March 09, 2015
When people think of Florida, it's natural to think of sun-drenched beaches, amazing sunsets and championship golf courses. For those living on Florida's Treasure Coast, they have the unequalled opportunity to experience a tropical paradise in Vero Beach. Residents enjoy an azure colored ocean, deserted beaches and an enticing sea floor scattered with hidden Spanish Galleon treasure. Sunken ships can still be seen at low tide from the Vero Beach beaches. Treasures on land include high end art galleries, a world class art museum, performing arts theater, and tasty restaurants. Disney recognized the value of this area and built the Disney Vero Beach Resort in 1995 just south of the Sebastian Inlet, one of Florida's best surfing beaches.
The barrier island is populated with private and expensive gated communities. After years of studying communities in the area, Real Estate Scorecard chose Grand Harbor Golf & Beach Club as its 2015 Bliss Award winner for Best Florida Community of the Year and here's why:
The Developer of Grand Harbor Golf & Beach Club had the foresight to secure an oceanfront land parcel near Disney's Vero Beach Resort to build the community's private oceanfront beach club. The staffed Beach Club amenities include an oceanfront swimming pool, beach cabanas, oceanfront dining and the beach club is about a 10 minute drive from the Grand Harbor neighborhoods.
Five star amenities at Grand Harbor are extensive: two championship golf courses, a 32,000 square foot grandiose Mediterranean clubhouse with four diverse venues for dining, 144-slip protected deep water marina, tennis center with 10 Har-Tru courts and 2 stadium courts, 3 bocce ball courts, a modern fitness center staffed with personal trainers and jam-packed social calendar. Grand Harbor offers over 200 monthly social events which include themed parties, dinner shows, golf invitationals, tennis exhibitions, and all kinds of special interest clubs. Volunteerism is the common thread weaving through heart of the Vero Beach country club.
The gated community has incredible curb appeal with tree lined roads providing a sense of peace and exclusivity. Grand Harbor is golf cart friendly making it easy to get around the huge community. The community has also been recognized as a Certified Audubon Community. Golf, tennis and social club memberships range from $272 to $894 per month. We're told club membership has not imposed assessments. Deposits for membership provide 100% equity return or 80% of the current values, which ever is greater so the investment in joining the club is worthwhile. During the summer months, the club has reciprocal arrangements with 13 local Indian River golf courses adding variety for the avid golfer.
In addition to the diversified way of life it offers, what makes Grand Harbor special to Real Estate Scorecard is the one-of-a-kind boating opportunities the community has boating on the Indian River Lagoon, one of the largest protected estuaries in Florida. The lagoon basin contains 685 fish species, 370 bird species, 2,100 plant species, 2,200 animal species. Beaches in the lagoon region attract some of the highest numbers of nesting sea turtles in the western hemisphere. Manatees, otters and bottlenose dolphins now inhabit the estuary. For outdoor enthusiast and boaters, this is an incredible backyard. For the more adventurous boater, the Sebastian Inlet provides the gateway to the Atlantic Ocean and is approximately 11 miles to the north. Conveniently located within the community is the independently owned Loggerhead Marina, a 144-slip protected deep water marina.
Since its commencement in 1988, a lot of thought went into the master plan of the Vero Beach country club. From impressive estates to low maintenance villas, townhomes and condominiums, the gated community offers something for every price point. Believe it or not, homes can be found here under $200k. On the opposite side of the pendulum, estate homes can easily exceed $1 million. The Falls neighborhood is the community's newest neighborhood with spacious single family villas priced from the $400k's. In addition, future development will continue as it boasts over 500 acres of undeveloped land.
Folks relocating from the tax-laden, icy Northeast, will find Grand Harbor's location on the mainland appealing. A new Publix shopping center is located just beyond the gated entrance and top quality medical care is found just to 2 miles to the south at the Indian River Medical Center. Retirees living the 'Grand' life in Vero Beach have a sweet reward during the golden years.
About Real Estate Scorecard:
Real Estate Scorecard writes unbiased real estate reviews providing in-depth information about popular gated communities in Florida, Georgia, North Carolina, South Carolina and Tennessee, all in an effort to help people discover where to retire in the South.
Website: http://realestatescorecard.com