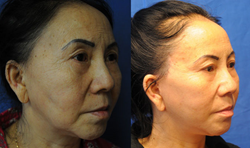 Facelift customization is an important factor in order to achieve the best result and meet the patient's expectation
Minneapolis, MN (PRWEB) March 09, 2015
Cosmetic facial surgery has gone through much advancement over the years. In the past a facelift would've taken several days of recovery in a hospital – now most patients just go home immediately after the surgery. And now with new technology and technique, facelift surgery has never before been more convenient and affordable.
Shu Cosmetic Surgery of Twin Cities has been providing high quality facelift services over the past five years, and it now offers more choices of facelift based on the patients' age, personal preference, and individual expectation. Patients choose the size of the facelift depending on how much younger they wish to look: i.e., if a patient has minor aging, they would choose a small facelift.
"We offer three types of facelifts: small, medium, and large to meet each patient's need and expectation." says Dr. Shu. "Each type of facelift needs a lift in multiple layers. This means that not just the skin is tightened, but the deeper layers as well, creating a longer lasting lift."
In the practice of cosmetic surgery, a small facelift is colloquially known as a "weekend lift" or "J-lift". A patient may have a procedure on Thursday and be able to return to work on Tuesday. A medium lift is also known as a "mini lift" for moderate aging. A large lift is known as a "comprehensive facelift" or "extensive facelift", which includes a true neck lift.
About Dr. Shu and Shu Cosmetic Surgery
Steven Shu, MD, MBA, is a board certified laser surgeon and an expert in office cosmetic surgeries in Minnesota. He is a member of the American Academy of Cosmetic Surgery and has adopted many advanced cosmetic surgery techniques to achieve ideal results with more efficiency and safety. Shu Cosmetic Surgery offers a full line of cosmetic surgery services. All cosmetic procedures are performed in the accredited private surgical center in Edina, Minnesota. For more information on Shu Cosmetic Surgery, please visit the center's website at http://www.shucosmeticsurgery.com or http://www.rejuvelaser.com.
Contact: Steven Shu, MD, MBA
Email: info(at)shuMD(dot)com
Phone #: 952-922-9999