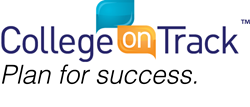 When students and teachers have applications that just work, they can focus on what really matters, the learning and development.
Palo Alto, CA (PRWEB) March 09, 2015
Keeping track of login credentials is hard for students and teachers, who often use a variety of web sites during the school day. Now, a partnership with Clever brings that company's instant login capability to CollegeOnTrack users, eliminating the need for a separate login and providing one-click access to the services users need.
The Clever partnership goes beyond student convenience. Simple and secure integration with school Student Information Systems (SIS) provides real-time access inside CollegeOnTrack to student and teacher rosters, course catalogs, class schedules, and more. The smooth flow of data reduces system setup time to minutes, makes key academic information readily available to those who need it, and keeps student information secure.
"We are excited to see how Clever's system makes life easier for our students and teachers, seamlessly connecting CollegeOnTrack with other software they're using," says marketing V.P. Phil Roybal.
Clever's platform is used by over 33,000 schools across the United States. It manages the dozens of usernames and passwords students and teachers would otherwise need, removing a significant barrier to the use of free education resources. It also integrates with popular SIS packages such as PowerSchool, Infinite Campus, Skyward, Aeries, Aspen, MMS, and many more, simplifying data exchange among systems.
"When students and teachers have applications that just work, they can focus on what really matters, the learning and development," said Clever's VP of Growth Matt Pasternack. "We're thrilled to be working with CollegeOnTrack to provide a simple experience for their schools."
About CollegeOnTrack 
CollegeOnTrack is a web-based system that enriches the learning experience in middle and high school as it prepares students for college and successful careers. Like a smart phone, it's a platform with apps; and it helps create interactive learning communities among students, teachers, and parents. Apps include Student Assessments, iPlan, Digital Portfolio, Colleges, Lessons & Homework, Grade Book, Dashboard, Calendar, Messages, Scholarships, and Administration. TestPrep and eTranscript are optional.
CollegeOnTrack has been on the market for three years, and is used by schools from Hawaii to New York to build college and career readiness. It was selected by District Administration Magazine's readers as one of the Top 100 Education Products of 2014.
For more information about this topic, or to schedule an interview, contact Philip Roybal at (408) 782-4244, or phil(at)collegeontrack(dot)com.
About Clever 
Clever is a leading edtech platform company that offers K-12 schools the simplest way to adopt, manage and use learning software in sync with their existing student information systems.  More than 33,000 schools across the United States use Clever, and more than 150 innovative software applications now integrate with Clever. In 2012, the SIIA named Clever the "Most Innovative Company in Education," and in 2013, Clever was awarded first place at SXSWedu. Clever's headquarters are in San Francisco. For more information contact Clever at (415) 562-6483, press(at)clever(dot)com, or https://clever.com.
CollegeOnTrack is a trademark of ServiceInfinity Inc.