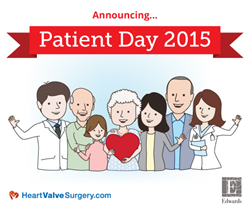 "Patient Day reflects and embodies our Credo and commitment to patients and their loved ones," said Michael A. Mussallem, chairman and CEO of Edwards Lifesciences.
Irvine, California (PRWEB) March 10, 2015
HeartValveSurgery.com, the largest online resource and community of patients with heart valve disease, announced today that it will participate in and document a special gathering of heart valve patients, their caregivers and loved ones. "Patient Day 2015" will be hosted by Edwards Lifesciences, a global leader in the science of heart valves, on Friday, March 13, in Irvine, California.
"With Patient Day 2015, Edwards has taken another extraordinary step to support patients with their valve technologies and our global heart valve community," stated Adam Pick, a double heart valve surgery patient and founder of HeartValveSurgery.com. "Patient Day provides patients a wonderful platform to meet, share experiences and learn from each other and experts in the heart care community. The event will also raise awareness of and provide education about valvular disorders that are often misdiagnosed and undertreated."
Heart valve disease occurs when one or more of the heart's four valves fail to open or close properly. Heart valve disease is diagnosed in up to 5 million Americans every year, according to the American Heart Association. The most common heart valve disorders are aortic stenosis and mitral regurgitation.
In addition to its work as a leading heart valve developer and manufacturer, Edwards established the Edwards Lifesciences Foundation to support health- and community-focused programs. Since its founding, the Edwards Lifesciences Foundation has donated more than $35 million to hundreds of non-profit organizations to address many causes, particularly heart disease. In 2014, Edwards launched the "Every Heartbeat Matters" charitable initiative with a goal of impacting the global burden of heart valve disease by supporting the education, screening, and treatment of one million underserved people by 2020.
"Patient Day reflects and embodies our Credo and commitment to patients and their loved ones," said Michael A. Mussallem, chairman and CEO of Edwards Lifesciences. "We are excited to connect our guests with each other and organizations that support heart patients, share how our heart valves are made, introduce them to the dedicated employees who hand-sew each of our heart valves and welcome them to the Edwards family."
During the all-day gathering, guests will have the opportunity to learn about and connect with American Heart Association, Mended Hearts, WomenHeart, and HeartValveSurgery.com.
To share the experiences of Patient Day 2015 with its global, heart valve community, HeartValveSurgery.com will be filming a video series about the event that will be syndicated across its interactive platform.
To learn more about Patient Day 2015, click here.
About HeartValveSurgery.com
Founded in 2006, HeartValveSurgery.com offers patients an end-to-end platform for learning about heart valve repair and heart valve replacement surgery. The platform includes a social network, a surgeon finder, a heart hospital directory, an interactive blog, a book and a new educational video library. To learn more, please visit http://www.HeartValveSurgery.com.
Contact information:
Contact HeartValveSurgery.com:
Robyn Podell, Director of Communications
(310) 721-0587
robyn(at)heartvalvesurgery(dot)com